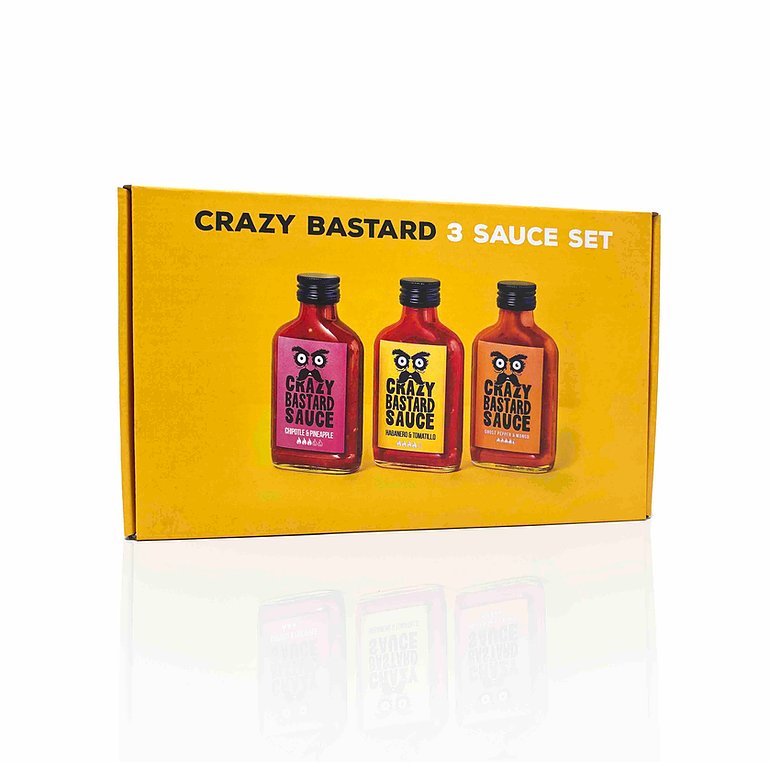 "Best Sellers" Chili Sauce Set
This boxset by CRAZY BASTARD SAUCE contains:

(Pink) CHIPOTLE & PINEAPPLE Sauce - 100ml 

Smoked chipotle chili gives this sauce a bold, full flavor, completed by sweet, ripe pineapple.
Onions, peppers, pineapple (17%), white wine vinegar, red jalapeño chillis, limes, chipotle chillis (1,7%), olive oil, salt

Hotness

: 5/10 Scoville: approx. 10.000 SHU


(Yellow) HABANERO & TOMATILLO Sauce - 100ml 


Hot habanero chilies are paired with tomatillo fruit is a versatile and delicious chili sauce. The balanced taste goes with every dish.
Peppers, tomatillos (22%), onions, habanero chillis (20%), white wine vinegar, apples, limes, garlic, olive oil, sea salt

Hotness

: 7/10 Scoville: approx. 25.000 SHU

(Orange) GHOST PEPPER & MANGO Sauce - 100ml 


Deliciously exotic fruity and intense ripe mangos and cumin complement the Indian ghost pepper chili.
Peppers, onions, white wine vinegar, mangos (12%), apples, bhut jolokia "ghost" chili (7%), limes, olive oil, cumin, sea salt

Hotness

: 8/10 Scoville: approx. 30.000 SHU
Each has its own flavor and spiciness. From the smoky chipotle to the famous bhut jolokia "ghost pepper" chili from North India. The perfect gift for any chili lover.
By CRAZY BASTARD SAUCE, created from a passion for chili. As a life-long chili fan, Jonathan O'Reilly wanted a sauce that isn't just hot but has the real characteristic flavor and heat of the chilis at its core. Their sauces have been dropping the jaws of chili fans since 2013, winning many international awards in the process, on their quest to hand-make top-quality hot sauces!