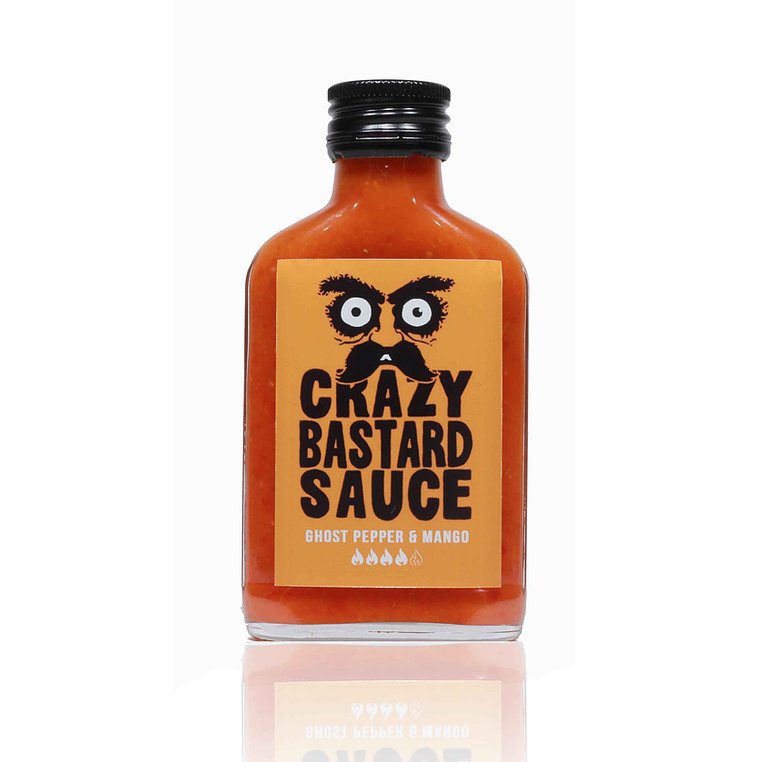 "Ghost Pepper & Mango" Chili Sauce
Hot Indian style chili sauce with Bhut Jolokia "Ghost Pepper" and Mango. Deliciously exotic fruity & intense ripe mangos and cumin complement the Indian ghost pepper chili.
Ingredients

Peppers, Onions, White Wine Vinegar, Mangos (12%), Apples, Bhut Jolokia "Ghost" Chili (7%), Limes, Olive Oil, Cumin, Sea Salt

Taste

Fruity and exotic with warming notes of cumin, a well-balanced flavor

Pairing 


Everything! Including rice dishes, grilled food, Indian and Asian dishes

Hotness

8/10 - quick building and long-lasting

Scoville (estimated)
By CRAZY BASTARD SAUCE, created from a passion for chili. As a life-long chili fan, Jonathan O'Reilly wanted a sauce that isn't just hot but has the real characteristic flavor and heat of the chilis at its core. Their sauces have been dropping the jaws of chili fans since 2013, winning many international awards in the process, on their quest to hand-make top-quality hot sauces!