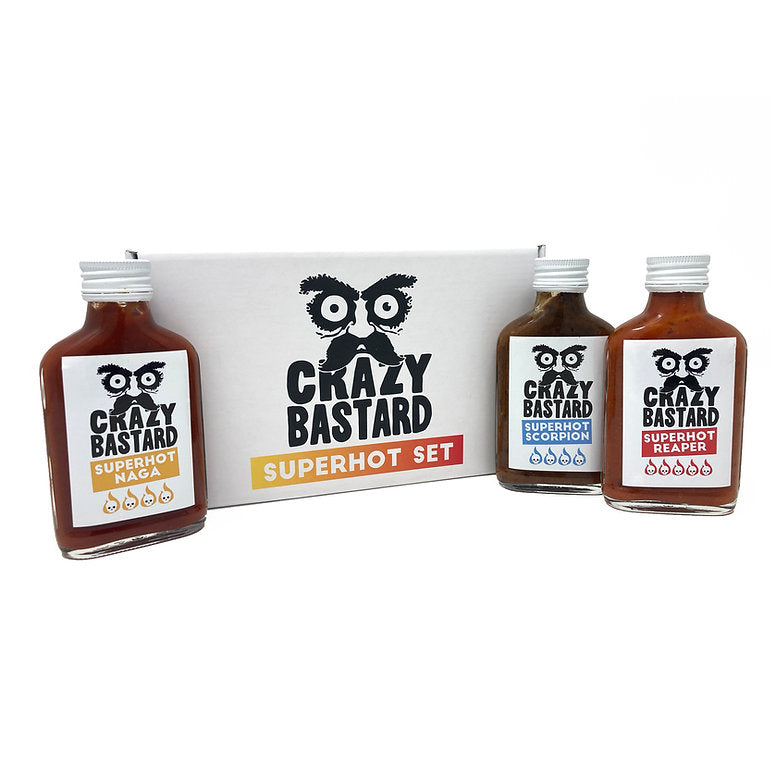 "Superhot" Chili Sauce Set
This boxset by CRAZY BASTARD SAUCE contains:

(Orange)

SUPERHOT NAGA

 Sauce - 100ml 

The world-famous Naga chili, known as Bhut Jolokia (meaning Ghost Pepper) in its home of Northern India is the main ingredient in this sauce, fermented for months to create a deep and complex flavor and heat. The chili is complimented by some intense flavors: fresh ginger, garlic, and a heady mix of strong madras curry.

Naga Bhut Jolokia Chili (50%), white wine vinegar, ginger, garlic, onion powder, madras curry powder (contains mustard), salt, and vitamin C.

Scoville: approx. 250.000 SCHU

(Blue) SUPERHOT SCORPION Sauce - 100ml 


The unmistakable slow burn of the Trinidad Scorpion chili, together with loads of smoky Caribbean spices. This sauce is thick, packed full of flavor, and great for cooking with.

Trinidad Scorpion Chili (50%), White wine vinegar, chipotle chili, Caribbean spices (allspice, ginger, thyme, garlic, pepper, paprika, nutmeg, cinnamon, cloves), sea salt.


Scoville: approx. 375.000 SCHU

(Red)

SUPERHOT REAPER

 Sauce - 100ml 


A sauce that pushes the boundaries of flavor and hotness: both are extremely intense but balanced. Fermented Carolina Reaper Chili with a heady blend of Creole spices and strong mustard.
Carolina Reaper Chili (50%), White wine vinegar, creole spices, sea salt, mustard powder, garlic, oregano, thyme, stabilizer: guar gum.


Scoville: approx. 500.000 SCHU



This set contains a selection of three superhot chili sauces, made with some of the world's hottest and tastiest chilis. Naga, Scorpion, and Carolina Reaper. These sauces offer intense flavor and warmth, each with its own unique character. But be warned: they are for advanced chili fans.
By CRAZY BASTARD SAUCE, created from a passion for chili. As a life-long chili fan, Jonathan O'Reilly wanted a sauce that isn't just hot but has the real characteristic flavor and heat of the chilis at its core. Their sauces have been dropping the jaws of chili fans since 2013, winning many international awards in the process, on their quest to hand-make top-quality hot sauces!