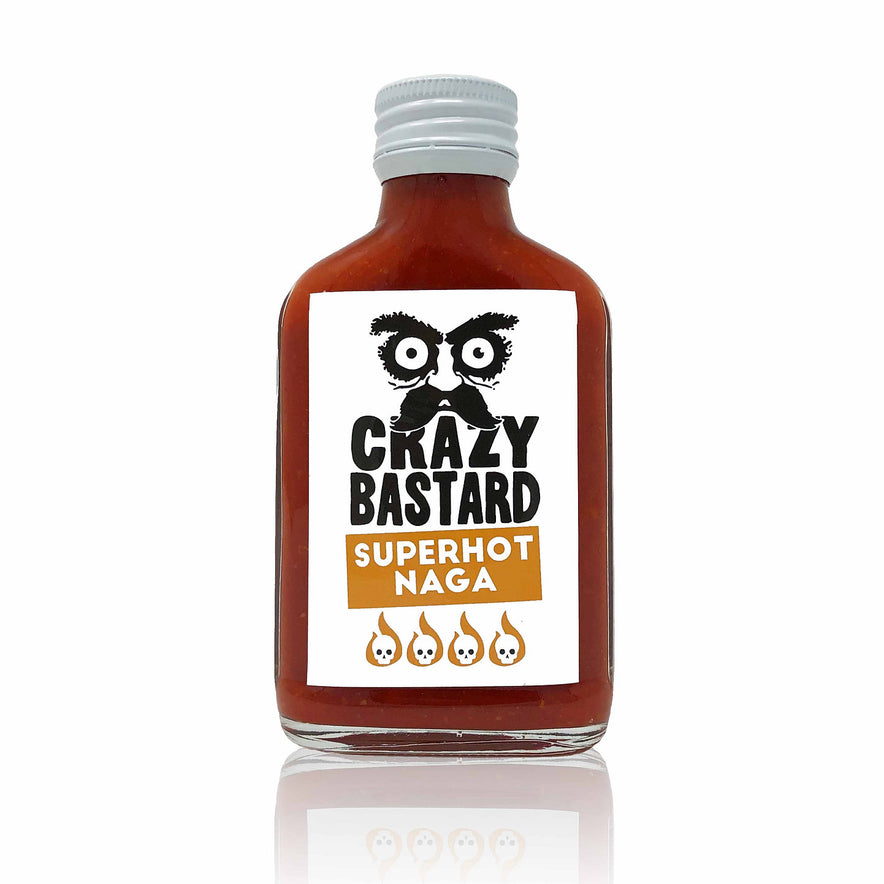 "Superhot Naga" Chili Sauce
The world-famous Naga chili, known as Bhut Jolokia (meaning Ghost Pepper) in its home of Northern India is the main ingredient in this sauce, fermented for months to create a deep and complex flavor and heat, the chili is complimented by some intense favors: fresh ginger, garlic and a heady mix of strong madras curry.
Ingredients

Naga Bhut Jolokia Chili (50%), White Wine Vinegar, Ginger, Garlic, Onion Powder, Madras Curry Powder (contains Mustard), Salt, Vitamin C

Taste

Rich and warm ginger and garlic with full-flavored curry aroma, background earthy flavors, and balanced acidity

Pairing 


Rice and noodle dishes, curry, soups, grilled vegetables, Indian and Asian dishes

Hotness

11/10 - Immediate and powerfully intense, spreading from the tip of the tongue to the whole mouth. Careful!

Scoville (estimated)
By CRAZY BASTARD SAUCE, created from a passion for chilis. As a life-long chili fan, Jonathan O'Reilly wanted a sauce that isn't just hot but has the real characteristic flavor and heat of the chilis at its core. Their sauces have been dropping the jaws of chili fans since 2013, winning many international awards in the process, on their quest to hand-make top-quality hot sauces!