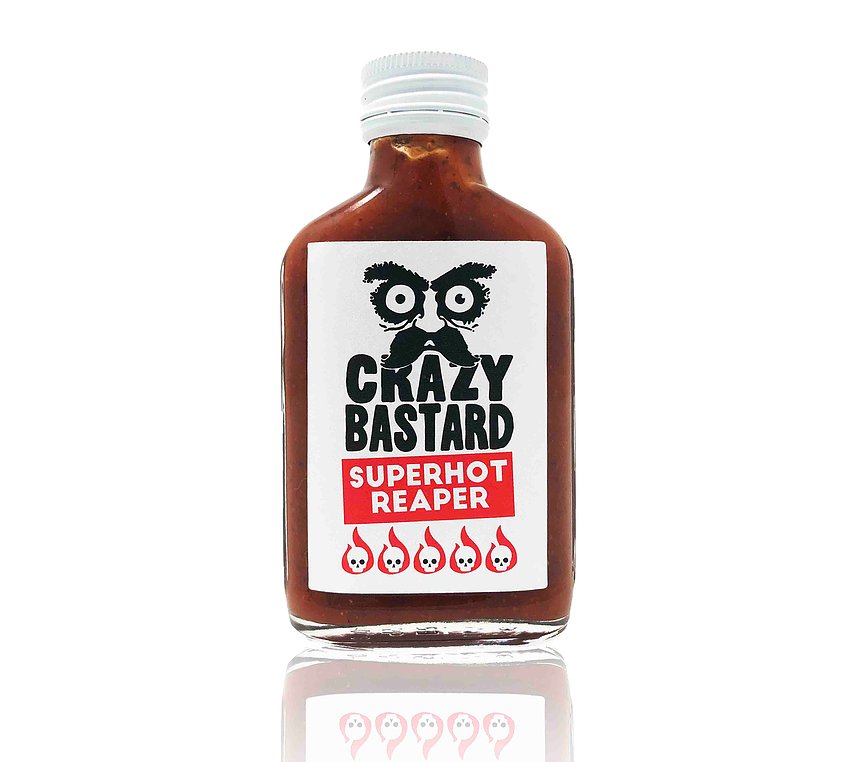 "Superhot Reaper" Chili Sauce
The hottest sauce in our superhot range pushes the boundaries of flavor and heat: both are extremely intense yet still perfectly balanced. Fermented Carolina reaper chili with an intoxicating blend of Creole spices and strong mustard. 
Ingredients

Carolina Reaper Chili (50%), White Wine Vinegar, Creole Spices, Sea Salt, Mustard Powder, Garlic, Oregano, Thyme, Stabilizer: Guar Gum

Taste

All the flavors at once: mustard, garlic, cumin, chili, pepper, and... pain!

Pairing 


Hmm... whatever, just don't pour it all over your burger

Hotness

∞/10 - It's far too hot. Don't do it!

Scoville (estimated)

500,000 SHU - that's all-natural heat, no extract
By CRAZY BASTARD SAUCE, created from a passion for chilis. As a life-long chili fan, Jonathan O'Reilly wanted a sauce that isn't just hot but has the real characteristic flavor and heat of the chilis at its core. Their sauces have been dropping the jaws of chili fans since 2013, winning many international awards in the process, on their quest to hand-make top-quality hot sauces!