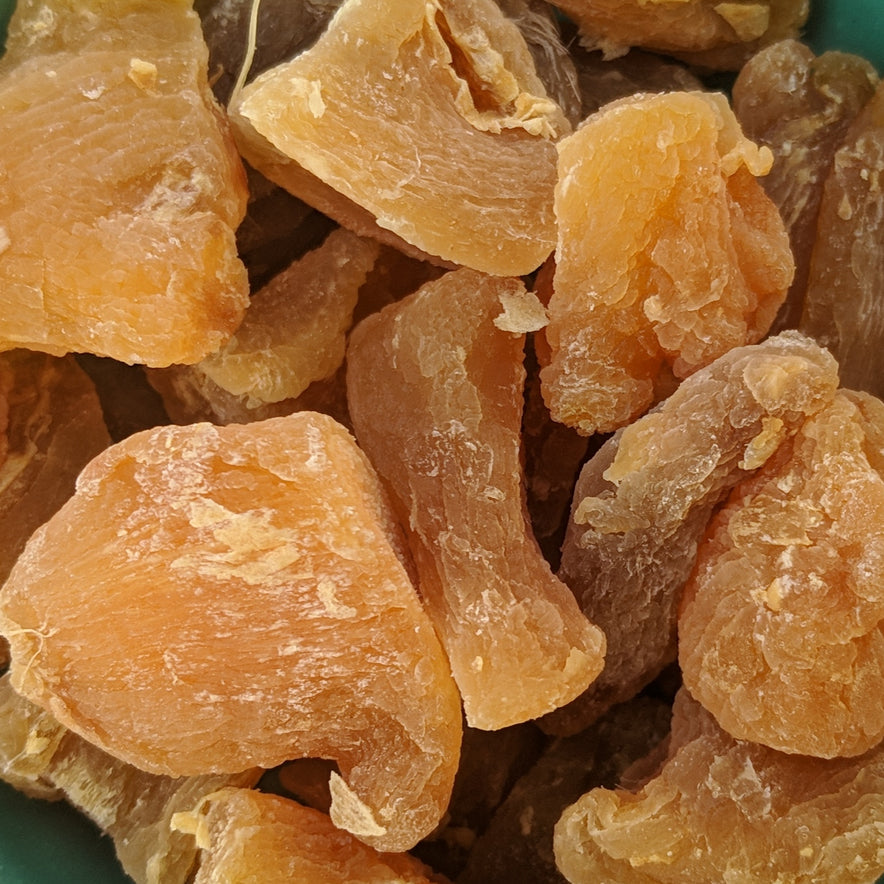 Ginger
Ginger chunks are healthy and nutritious delights overflowing with flavor and zing, enjoyable in a variety of ways. All of the well-known health benefits of ginger root are preserved in this wonderful delicacy.
Ginger is a top anti-inflammatory plant that has been used as a natural therapy for a variety of inflammatory illnesses, including arthritis and Alzheimer's disease. Ginger root includes modest levels of potassium, copper, manganese, magnesium, vitamin C, and many other important components in addition to strong phytonutrients.
Not only that, but ginger has been shown to be beneficial in battling disease-causing viruses, fungus, and bacteria.
Use
Add them to your favorite foods or snacks, or use them to jazz up a variety of cuisines. Add to sweets and drinks after steeping in a hot cup of water for ginger tea.
Cakes, muffins, cupcakes, banana bread, lemon bread/cake, brownies, cheesecakes, cookies, pies, pancakes, waffles, granola bars, and trail mixes are all excellent choices.
For a garnish and to add to pastry and cheesecake/tart crusts, finely chop/process. To make a great ginger candy, coat it in chocolate.
These chewy ginger bites are a fantastic sugar-free snack on their own.
Notes
◉ Should be stored in airtight glass containers -in a cool, dark, and dry area- to preserve their flavor and properties.