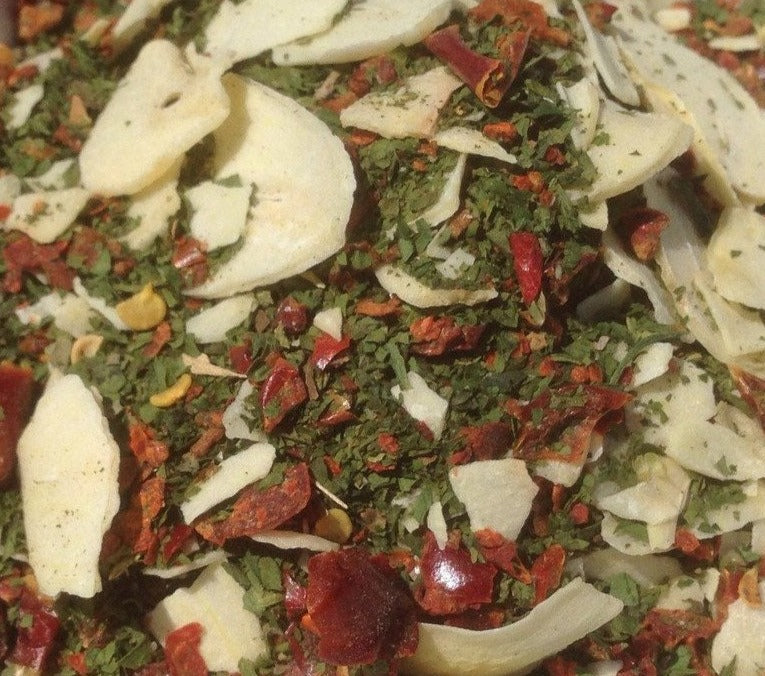 "Aglio Olio Peperoncino" Spice Mix
The perfect mixture to recreate the famous traditional dish from Naples, one of the simplest and most delicious Italian pasta. If you love garlic, this spice mix is for you!
Ingredients 
Garlic, Paprika, Parsley, Chili, Basil, Oregano
Use
A step-by-step for a 4-person meal:

4 tbsp "Aglio Olio Peperoncino"
500g Spaghetti
100ml Olive Oil
1tsp Salt.
Put the mixture in a bowl with a little warm water and leave it to soak for 10 minutes. Add the oil to a deep frying pan and heat over medium heat. Pour the mixture into the pan and sauté for 3-4 minutes. Finally, add perfect al dente pasta to the pan, mix well and serve. Add some freshly grated parmesan cheese for extra flavor and texture at the end, if desired.
Notes
◉ Should be stored in airtight glass containers -in a cool, dark, and dry place- to preserve the flavor, texture, and properties.