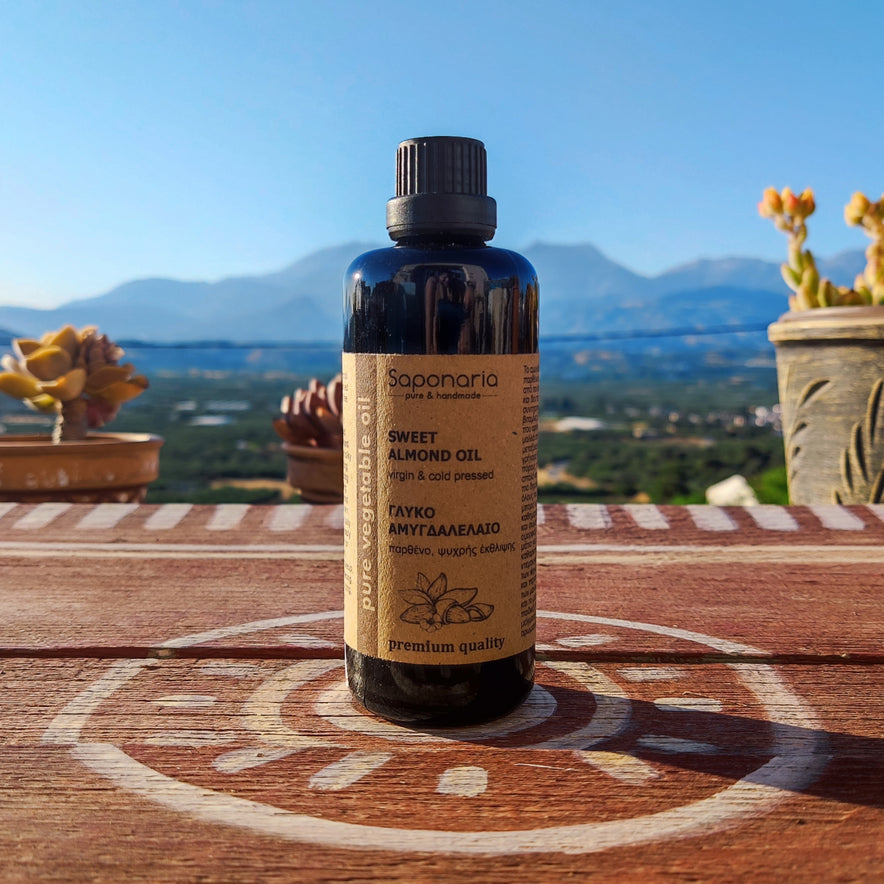 Pure Sweet Almond Oil
One such natural ear infection remedy is sweet almond oil, known for its quick relief of ear pain.

It's used to soften ear wax and relieve blockage in the ventilation tubes within the ear. In fact, sweet almond oil, unlike many other earwax softeners, has been proven to be safe for the ear, even if there are microscopic cuts inside (as many other earwax softeners tend to cause infection if exposed to microscopic abrasions within the ear).

Simply warm a tablespoon in hot water, put two to three drops of almond oil in the spoon and drop it into the affected ear, allowing the warm oil to go down the ear canal.
Beauty Benefits for Skin & Hair
1. Benefits sensitive skin, even baby skin
One of the most well-known benefits of almond oil is its ability to keep your skin looking great. As a mild, hypoallergenic oil, it's safe for sensitive skin, including baby skin. Absorption is best when the oil is warmed to body temperature before application.

Almond oil has a light texture and easily absorbs into skin. It can be used to gently dislodge debris from deep within skin pores and follicles, and also may help prevent future acne because of its vitamin A content. You can even create a natural facial scrub using fine sugar mixed with sweet almond oil, safe for even those with sensitive skin.

For dark circles under your eyes, apply a few warm drops beneath your bottom eyelid before bed. Applied all over the face, almond oil can also delay general signs of aging as it renews the cells of your facial skin.

Another popular way to use sweet almond oil is to dilute essential oils from their purest form to make them safer for direct skin application. When used this way, almond oil is considered a carrier oil, carrying the essential oil onto the skin. It makes a good carrier because of its mild smell and doesn't easily evaporate.

While almond oil is light enough to use directly on the skin, it's not generally recommended as an overall facial moisturizer because it can cause unwanted oiliness on the face.

2. Protects skins against UV damage
Probably due in large part to its antioxidative properties, sweet almond oil is known for protecting skin against UV radiation damage and keeping skin soft and supple. A 2007 study found it to both prevent initial UV damage and slow down the effects of UV damage after it happened.

3. Alleviates psoriasis and eczema
Its uses in treating dry skin conditions, such as psoriasis and eczema, were taught as part of ancient Chinese, Ayurvedic, and Greco-Persian schools of medicine.

Research indicates that a hand cream with sweet almond oil helped relieve hand dermatitis, including burning, stinging, and red, and itchy skin. A separate study also showed that almond oil is a safe remedy, helping to relieve the inflammation, itchiness, and redness of psoriasis or eczema.

4. Assist with wound healing
Injury or surgery can often cause scarring on the skin, and both Ayurvedic and Traditional Chinese Medicine practitioners will use almond oil to help reduce the appearance of scars as well as soothe the skin.

5. Reducing the appearance of stretch marks
Research indicates that almond oil can help prevent stretch marks in pregnant people and even reduce the itching that occurs as the skin heals. Each day, participants simply applied almond oil directly to the skin each day.

For your own DIY stretch mark remedy, massage almond oil on the stretch mark region each day, such as after a shower (when the skin is warm and ready to absorb the almond oil).

6. Use as a beauty agent
Other skin and beauty ideas for almond oil are to use it as a makeup remover, to treat chapped lips, and to reduce undesired layers of tan.

7. Use for improved hair, including for eliminating dandruff and frizz
Almond oil can help improve your hair's appearance and health regardless of your hair type. Its hypoallergenic, anti-inflammatory properties help repair existing damage to the hair while its saturated fat adds moisture and elasticity.
Almond oil is full of vitamin E, and it's a great source of magnesium, phosphorus, and copper. The antioxidant-rich oil is known for its free radical fighting abilities. It's also anti-inflammatory and boosts immunity.

Containing omega-3 fatty acids, almond oil might help you maintain healthy cholesterol levels and improve your memory. It may help lower your risk for diseases like cancer and heart disease.
Almond oil has been used for centuries to soothe the skin and treat minor wounds and cuts. It has been used in ancient Chinese and Ayurvedic practices to treat skin conditions like eczema and psoriasis.

More than soothing dry skin, almond oil can improve complexion and skin tone. It's highly emollient, which means it helps to balance the absorption of moisture and water loss. Because it is antibacterial and full of vitamin A, almond oil can be used to treat acne. Its concentration of vitamin E can also help to heal sun damage, reduce the signs of aging, and fade scars.

Almond oil soaks in quickly and is a powerful moisturizer, so it can be used on the face or body. You can apply it straight, or mix it with essential oils to get its benefits. Beyond moisturizing your skin, almond oil is a great massage oil or skin treatment.

It also has powerful antifungal properties. Rub it on your feet to prevent athlete's foot or to help remove other fungal infections like ringworm. You can use almond oil as a cleanser or gently remove makeup as well.
Your skin isn't the only thing that can benefit from almond oil. The nourishing oil can soften and strengthen your hair. It's rich in vitamin B-7, or biotin, so almond oil helps to keep hair and nails healthy and strong. It can also help protect your hair from sun damage, with a natural SPF 5.

You can use almond oil as a scalp treatment. Its antibacterial and fungicidal properties make it effective at balancing the yeast that causes dandruff. It easily soaks into the skin, so almond oil works well at hydrating the scalp and cleansing the hair follicles.

You can also smooth frizz and heal damaged hair with almond oil. Apply a dime-sized amount or less to the ends of your hair before drying to hydrate and decrease frizz.


If you're unsure if you have a nut allergy, it's best to get tested first before eating almond oil or using it on your body.

If you don't think you're allergic, try a test small test patch of the oil on the inside of your wrist before using it in your skincare routine.
Almond Oil is widely used by therapists as a massage oil to nourish, revive and promote healthy skin.

Sweet Almond Oil is especially suited to dry, sensitive, and irritated skin.

Almond Oil is lubricating but not penetrating which makes it an excellent massage oil and protectant.
This cold-pressed sweet almond oil is ideal for all skin types, even sensitive skin, and dry hair. It hydrates and softens the hair whilst providing shine and suppleness. Its characteristic scent is pleasant and seductive at the same time. The oil is particularly gentle and suitable for little ones.

Application:

Apply directly to clean, dry skin and gently massage.
Work into the lengths of the hair or use as a mask prior to shampooing.
The oil can be used as a base for homemade cosmetics.
Note:

Do not swallow.
Suitable for external use only.
Use
Hair
Work it through your hair as a substitute for leave-in conditioner; alternatively, you can add it to your DIY shampoo to add shine to your hair.
For a dandruff remedy, rub it into the scalp to help an irritated scalp.
For frizzy hair, add a little bit to your hair ends and rub to both hydrate and de-frizz.
Image result for Sweet almond oil
Almond oil may promote heart health, stabilize blood sugar levels, prevent free radical damage and help you maintain a healthy weight.
Almond Oil is a natural oil that's perfect for nourishing and reviving any skin type. Almond oil is easily absorbed and won't clog pores, promoting clear, soft, healthy-looking skin. This skin-nourishing oil is ideal for the entire body and is derived from pressed almonds.
Use: Work several drops between your palms and massage into the desired area. For the face, after cleansing, massage 3-5 drops of 100% Pure Almond Oil into your skin, paying particular attention to the area around your eyes.
For skin needing clean and natural nourishment, as a moisturizer or for massage.
It is also rich in vitamins A, B1, B2, B6, and E, unsaturated fatty acids, and amino acids.

Almond oil belongs to the most precious oil in skincare. It is rich in linoleic acid, oleic acid, palmitic acid, vitamins A, E, and B, and various minerals such as potassium, magnesium, and calcium.

When applied to the skin, the lipids of almond oil are able to directly penetrate into the skin's barrier. This way, they strengthen the barrier and support the lipid and moisture balance.

The vitamins contained in almond oil form an anti-oxidative protective shield, improve the new formation of cells and protect skin against cell and structure damages.
Almond oil is easily absorbed and does not clog pores, leaving the skin soft and healthy. It is ideal for the whole body.

Now Almond Oil is a rich source of vitamin E but also essential minerals such as magnesium, zinc, and calcium. It is also high in fat.

Almond oil improves the texture of the skin and maintains its radiance, offers better and deeper hydration, and soothes and delays the signs of aging.
Ingredients
Prunus Amygdalus Dulcis (Sweet Almond) Oil
How to use
For hydration, apply after bath or shower on damp skin a tiny quantity to your body, making massage with circular movements, to seal the moisture to the skin, and then wipe gently with a towel. 
*25-30 drops are enough for all of your body.
For your bath: add to the water of your bath about 10-20ml of the body oil, relax and stay there for 20 to 30 minutes. No rinse is needed.
For massage, apply freely to dry skin and give yourself or your loved ones a wonderful massage that stimulates the senses. 
By SAPONARIA, a Cretan business located in Heraklion, producing all-natural and handcrafted skin-care products, cold processed so that the ingredients can retain their unique properties. They are colored with herbs and spices, flavored only with pure essential oils, containing no preservatives. In addition to the valuable extra virgin olive oil from Crete, excellent ingredients such as cocoa butter, almond oil, and shea butter are used in the production process.

In order to minimize their environmental impact, SAPONARIA integrates recycled paper and cotton packaging into their products, which are biodegradable, recyclable, and reusable (the pouch).