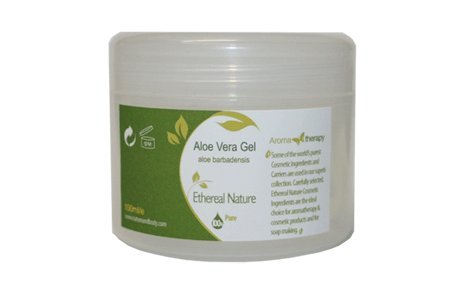 Aloe Vera Gel
Aloe Vera Gel is made from the leaves of the Aloe Barbadensis plant, which is said to have originated in North Africa.

Aloe contains more than 75 nutrients including 12 vitamins, 20 minerals, and 18 amino acids. It is a real "storehouse" of valuable ingredients, as it contains vitamins A, B1, B2, B3, B3, B5, B6, B12, C, E, and folic acid, as well as trace elements such as iron, copper, magnesium, magnesium, manganese, phosphorus, molybdenum, selenium, potassium and iodine. It also contains amino acids, saponins, uronic acids, anthraquinone, and lignin.

Aloe is said to be beneficial to the human body when applied topically to the skin and ingested in the form of juice. It has soothing and moisturizing effects, which is why it is found in cosmetic goods such as after-sun lotions, skin moisturizing products, shampoos, and soaps.

Use
For moisturizing, nourishing, healing, and treating skin irritations (redness, dermatitis, etc.). Ideal for all sensitive skin types as well as for diaper rash.

Notes
◉ Ethereal Nature's "Aloe Vera Gel" is pure (97.9%), colorless, odorless, and free of harmful chemicals.