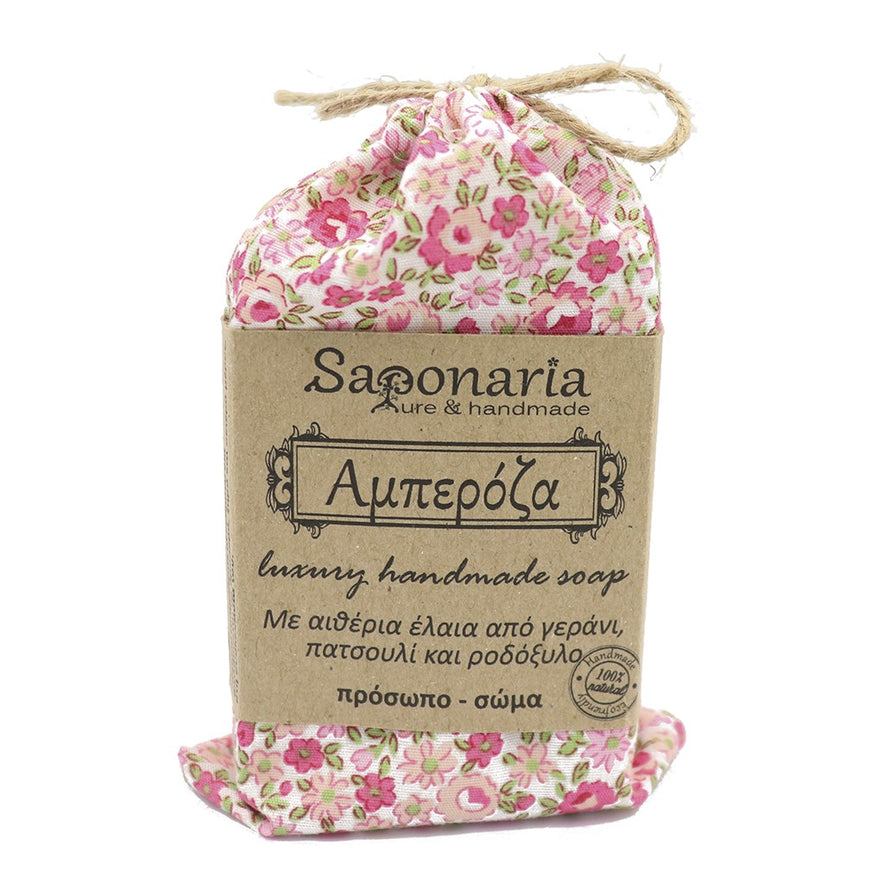 "Amperosa" Handmade Soap
The Amperosa soap, with anti-aging properties, soft and delicate, has a rose-flavored fragrance and oriental notes. Suitable for all skin types, including mature, can be used both for facial and body application in your daily routine.
Geranium, a valuable oil in skincare, helps to detoxify the lymphatic system and has antidepressant properties.
Pink clay gently removes impurities and dead cells, evens the skin tone, and boosts radiance, leaving your face feeling moisturized, clean, refreshed, and healthy. Rosewood is ideal for damaged skins, is soothing, and is considered one of the best oils for meditation as it helps to clear the mind.
Patchouli helps to create new healthy cells, is very aphrodisiac, and adds a sensual and oriental note.
Ingredients
Olive Oil, Water, Coconut Oil, Almond Oil, Sodium Hydroxide, Castor Oil, Shea Butter, Cocoa Butter, Avocado Oil, Geranium Oil, Patchouli Oil, Rosewood Oil, Bergamot Oil, Lavender Oil, Pink Clay

Use
For facial use, apply twice daily by wetting your hands and your soap and working into a nice lather. Use your hands to gently massage the lather over your face using circular motions, and then rinse with water.
For the body, rub the soap directly onto a wet sponge to get the perfect lather. Use of a natural sponge is advised.

Notes
◉ To ensure that your soap lasts as long as possible and produces a thick and creamy lather every time, make sure it remains dry between uses by storing it in a well-drained and ventilated soap dish away from water.

By SAPONARIA, a Cretan business located in Heraklion, producing all-natural and handcrafted skin-care products, cold processed so that the ingredients can retain their unique properties. They are colored with herbs and spices, flavored only with pure essential oils, containing no preservatives. In addition to the valuable extra virgin olive oil from Crete, excellent ingredients such as cocoa butter, almond oil, and shea butter are used in the production process.

In order to minimize their environmental impact, SAPONARIA integrates recycled paper and cotton packaging into their products, which are biodegradable, recyclable, and reusable (the pouch).