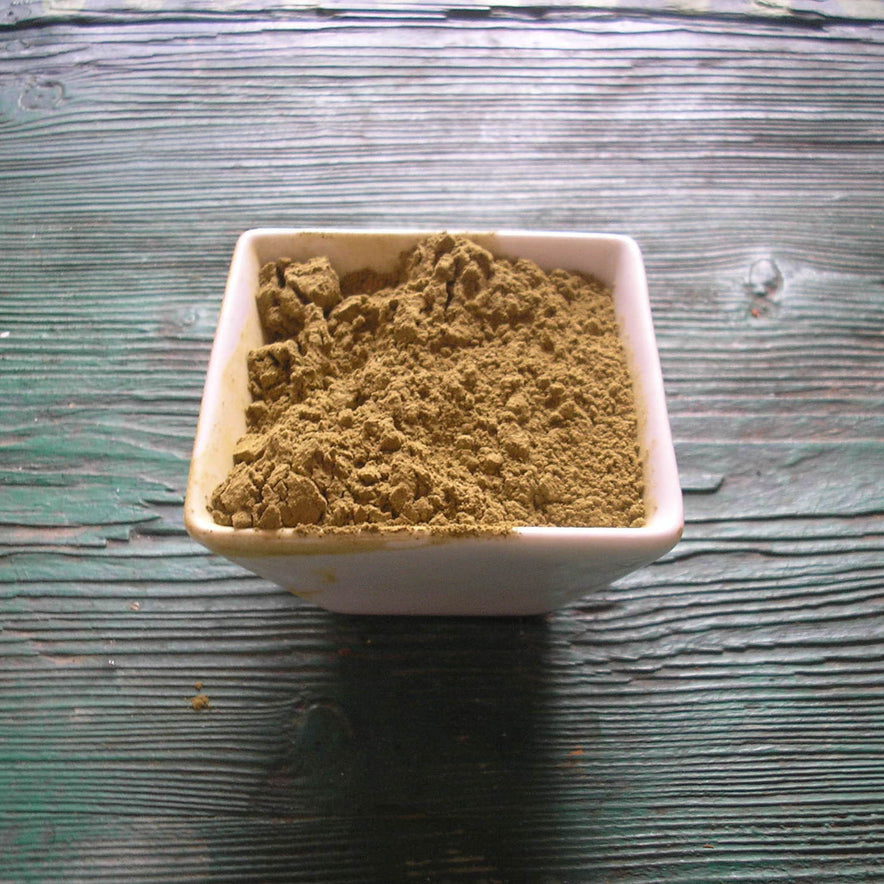 Blonde Henna Powder
For almost 4,000 years, henna has been used as a natural dye. Lawsonia Inermis, often known as the henna tree, is a plant with antifungal and antibacterial properties that can benefit the hair and scalp, especially against premature greying and in favor of reducing dandruff or breakage.
Its leaves are crushed or powdered after being dried. Henna Powder produces wonderful hair masks with a plethora of advantages. It includes vitamin E which aids in hair softening. The plant's organic leaves are high in proteins and antioxidants which help to maintain hair health by sealing the hair shaft, reducing hair loss, and alleviating scalp irritation (reducing pH levels) while having a deep conditioning effect on the hair. 
Follow these steps to make the most out of your Henna Powder!
1. Preparing your mix
◉ Get your henna powder ready (100g for short hair, 200g for shoulder length, 400g for waist length). Depending on the desired outcome, you could use just one color or a combination of your choosing.
◉ Add hot water by a spoonful to the henna powder creating a thick paste.
◉ Add a moisturizer of your choosing. For every 150g of henna powder, combine one or more of the following recommended amounts:
■ 1 egg
■ 1/2 cup yogurt
■ 1 cup amla (Indian gooseberry) powder
■ 1 cup aloe vera gel
■ 1 cup flax seeds soaked and made into a thick paste
◉ Squeeze in some lemon or apple cider vinegar and mix to help release the dye.
◉ Cover and leave overnight, until it produces brownish color. You can keep it in the fridge if the weather is hot. The next day the mixture can be applied to the hair directly.
2. Applying your mix
◉ Wear rubber gloves.
◉ Starting from the center of your head, take a few strands of hair and start applying henna with a brush. Make sure to cover your scalp with henna, too.
◉ As you continue, gather your hair on top. Hair clips should be used for this.
◉ Cover your head with a shower cap or a polythene bag once you've finished.
◉ Depending on how dark you want the color, let it on for 4 to 5 hours or overnight. If possible, use it throughout the day and sit in the sun. Sitting under a dryer is also an option. The heat will aid in the color's deeper penetration.

3. Washing and Aftercare
◉ Rinse the henna carefully with cold water.
◉ (Optional) Don't wash your hair right away. Allow a day for the color to settle in before shampooing your hair. Allow your hair to air dry after wiping it off with a towel.
◉ After rinsing off the color, wash your hair well with ordinary shampoo until the water runs clear, and then condition it with oil. This can aid to replenish moisture lost during the dying process, resulting in a deep, rich color.
4. Bonus Tips
◉ To achieve a rich brown color on your hair, prepare some coffee or black tea and add it to your henna mix.
◉ Similarly, brewed red tea, hibiscus petal powder, or beetroot juice can aid in obtaining a rich red tint.
◉ Prefer filtered or distilled water (or coffee or tea, as suggested above).