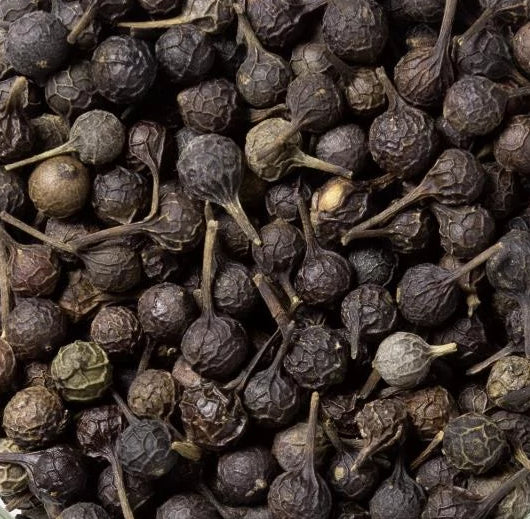 Cubeb Peppercorns (Piper Cubeba)
The cubeb pepper is native to Java and other Indonesian islands but is also grown in other areas of Indonesia and Sri Lanka.
The fruits are harvested just before ripening green and then dried in the sun until the fruit bowl has adopted an almost black color.
The taste of cubeb is not to compare with other peppers, with a spicy-peppery note, which is somewhat reminiscent of allspice, eucalyptus, and mint. The focus is rather subtle, dominated by a slightly bitter-sweet taste.
Originally cubeb was used because of its versatile health-promoting properties in the stomach, urinary tract infections, and respiratory problems. It has antiseptic properties and is very popular in Ayurvedic cooking.
Use
Fits perfectly with pepper and spice mixtures such as ras el hanout, with fish, cheese, chutneys, and seafood. 
Notes

◉ Should be stored in airtight glass containers -in a cool, dark, and dry area- to preserve their flavor, texture, and properties.