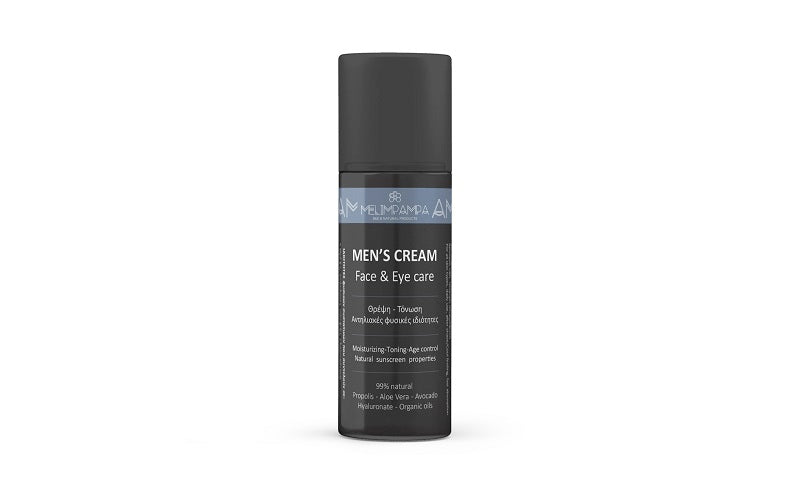 Face & Eye Cream "Men's Care" with SPF
It contains carefully selected ingredients that meet the special needs of men's skin and offer:

- Nourishment, regeneration, firming, elasticity, acne and blemishes, wrinkles, spots
- Reduction of dark circles, puffy eyes
- Hydration and softness when applied to the beard
- Sun protection with natural sun filters that protect the skin barrier from harmful sun rays and free radical damage. 
multipurpose face and eye cream, perfect for moisturizing beard

The antimicrobial and antioxidant action of propolis acts against acne and irritation while protecting against atmospheric pollutants
reducing inflammation, and heal acne and dry skin. It improves skin elasticity and soothes skin irritation & lesions from shaving or scratching. It also hydrates & retains moisture for both skin and hair, improving their protective barriers.
essential fatty acids and antioxidants, all necessary for skin renewal & repair. It contains anti-aging properties by boosting collagen & moisturizing skin. This helps in smoothing out fine lines, improving skin elasticity, and reducing the appearance of acne and scars.
It repairs & soothes skin inflammation, prevents acne breakouts, hydrates & locks in moisture to your skin, improving elasticity.
contains antibacterial, anti-inflammatory, and moisturizing properties. It contributes to healing wounds and soothing pain, while keeping your skin moisturized.
It is powerful & effective in combating acne, inflammation, and skin irritations such as dry or itchy patches that are hard to reach.
Using the dropper, obtain few drops of the elixir on the palm of your hands. Apply to facial hair in upward direction. Groom the beard downward with fingers or brush and style as usual. Re-apply as needed. It can also be applied to hair to add shine & control frizz. For best results, use daily.


this fast-absorbing, light-textured face cream is deeply moisturizing, offering a cooling sensation
Its composition immediately soothes dryness, redness, and burning sensation, making it perfect for applying after shaving, as it can give the skin coolness, relief and repair.
helping the skin to regain its softness and elasticity.
Offers hydration, nourishment, and elasticity to the skin, and treats and prevents acne.
Ingredients
Aloe Vera, Coconut Oil (organic), Avocado Oil, Sesame Oil (organic), Sunflower Oil, Hyaluronic Acid, Propolis Extract, and more.

Use
◉ Suitable for all skin types, including sensitive skin.
◉ Ideal for everyday use.
Notes
◉ Should be stored in airtight containers -in a cool, dark, and dry area- to preserve its properties, preferably refrigerated.
By MELIMPAMPA, a family business located in Thessaloniki, producing all-natural and handcrafted cosmetic products, certified for organic production.