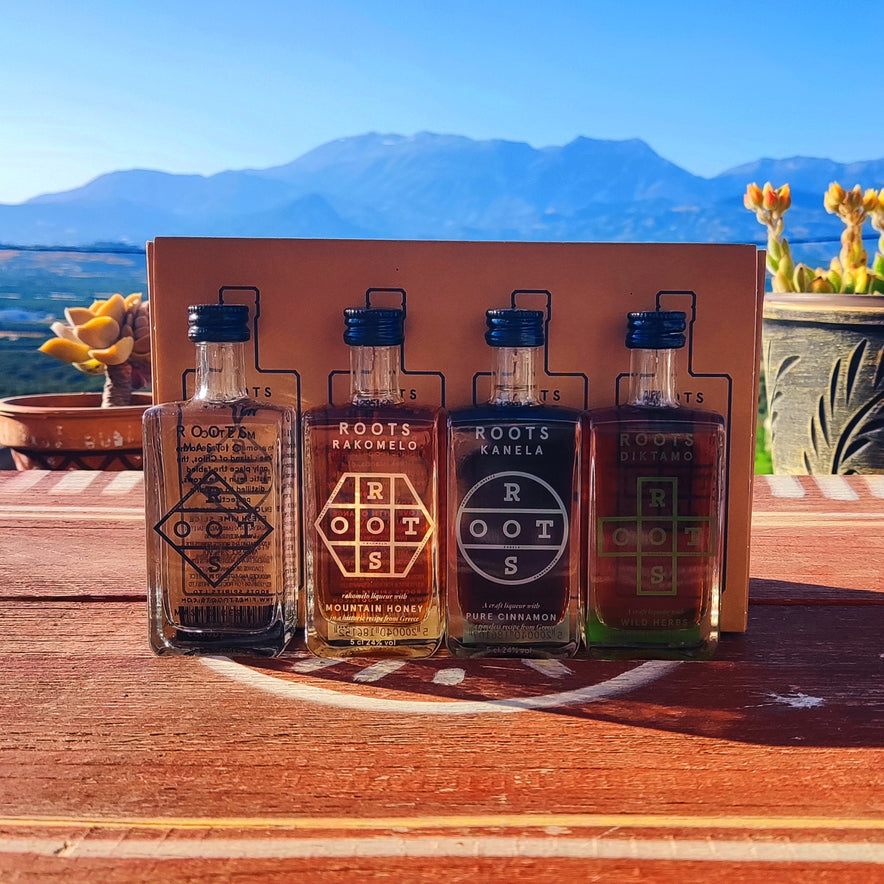 FINEST ROOTS Liqueur Set
This set contains four spirited liqueurs, each with a story to tell.

ROOTS DICTAMO - 50ml

Licorice and orris fold into the herbal wilderness of Diktamo, a rare plant from the mountains of the Greek island of Crete. 

Diktamo (Origanum Dictamnus or dittany of Crete), known in the Cretan dialect as Έρωντας (erontas, "love", for its aphrodisiac properties), is a healing, therapeutic and aromatic tender perennial plant. In Ancient Greece, Hippocrates prescribed dittany and other Greek herbs to aid all kinds of illnesses, and Aristotle and Theophrastus all extolled the virtues of the 'miracle cure' plant in various ancient writings.

Flavor

: A cerebral and layered taste combining harmonically herbal profusion with fruity subtleness. It gives a firm and gently bitter mouthfeel, mimicking the sense of a ʻsweet velvet' texture.

Aroma

: Peaty richness contrasted with herbal freshness.

Use

: Neat digestif, or on the rocks with a splash of tonic.
ROTS KANELA - 50ml

A revived 15th-century "tentura" recipe, from the Ionian Islands of Greece, with true cinnamon and clove buds. Roots 'Kanela' has its roots in the homemade tinctures (extracts, which got named "tentura"), made with spices arriving at the ports of the Ionian Sea. It has an incredibly unique and deep natural cinnamon taste.

Flavor

: Rich and lush earthy taste with a sweet peppermint and french vanilla feel; a sense of a sweet ʻcigar box' cedary aftertaste.

Aroma

: 

A little bit sweet, sort of spicy; cinnamon scent.




Use

: Neat, straight-up digestif. A relaxant after a long day, or an umami dinner, and a cinnamon drop in unique signature cocktails.
ROOTS RAKOMELO - 50ml

A centuries-old recipe of a soothing Raki brew with mountain honey and spices from the Aegean Islands. 

Locals on the Aegean islands throughout the centuries used to warm up Raki (grape pomace distillate; grappa) and add honey, as a warm treat, a winter remedy to share among friends.

Flavor

: 

Naturally sweet, honey, and spirited taste. The subtle presence of spices with a very rich and delicate mouthfeel.

Aroma

: 

Strong and flamboyant, fruity and slightly nutty smell with a noticeable spirity entourage.

Use

: Enjoy hot off the stove with orange and clove.
ROOTS MASTIC - 50ml

Spirited liqueur with 

mastic 

in a centuries-old recipe from Greece. An aromatic voyage to the Greek island of Chios, the only place the fabled mastic resin (mastiha) tree grows, distilled to enticing perfection. Known since the 5th century BC, Chios mastic (mastiha in greek) has been referred to by notables like Herodotus and Hippocrates for its beneficial and digestive properties & unique taste. Once worth its weight in gold, it has been used throughout the Roman, Ottoman, and again the modern times as an exotic delicacy.

Flavor

: 

Unique & apparent mastic.

Aroma

: 

Elegant and clean scent shaping an overall softening and refreshing smell; subtle lavender, pine, and coconut mouthfeel, with the unique Mastic smell being prevalent.

Use

: Mastic flavor is apparent and unique either straight up in a cold digestif shot or mixed with tonic and lemon in a fresh long drink. Elegant and clean scent shaping an overall softening and refreshing smell, with subtle lavender and coconut mouthfeel.
By FINEST ROOTS, a Greek brand of the finest-quality, hand-crafted luxury liqueurs that revives historic recipes with a rich heritage and "going back to the roots", only using natural Greek ingredients. Served at some of the world's top bars or at your local liquor shop.