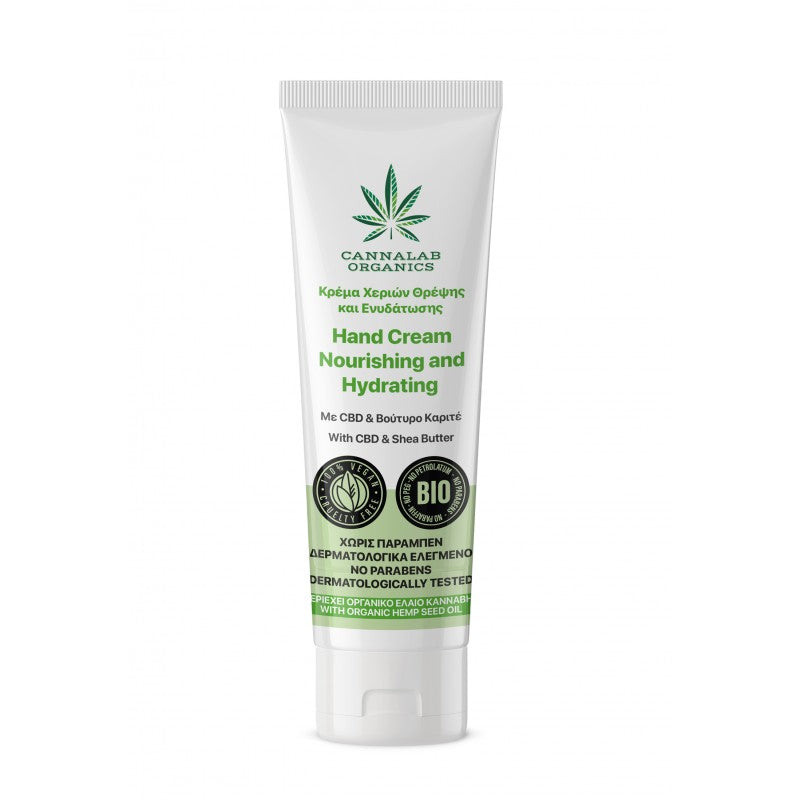 Hand Cream with CBD & Shea Butter | Organic
A cream with a rich texture containing CBD crystals, hemp oil, and shea butter that offers deep hydration and helps regenerate dry and chapped hands. It also offers anti-ageing properties while leaving the skin feeling ultra-soft and supple.
Specially formulated to help you deal with dryness, redness, blotches and rough skin.
CBD (also known as cannabidiol) is a non-addictive, non-psychoactive substance extracted from the cannabis plant. It is rich in antioxidant properties that help fight wrinkles, skin dullness, inflammation and redness.

Hemp seed oil is rich in Omega 3 and Omega 6 Fats (Essential Fatty Acids). They enhance skin hydration while providing significant antioxidant and anti-ageing effects, leaving a feeling of softness and freshness, regardless of skin type.

Shea Butter: One of the strongest allies in anti-ageing protection, rich in antioxidants and abundant in vitamins A and E. It helps produce healthy cells faster by preventing fine lines and wrinkles caused by free radicals, while its fat content helps hydrate the skin.

Use
◉ For best results, apply daily to clean and dry skin. Use your fingertips to apply a small amount of cream. Massage, gently until absorbed. Repeat as often as needed.

Notes
◉ Ideal for everyday use.
◉ Suitable for all skin types.
By CANNABIS ORGANICS