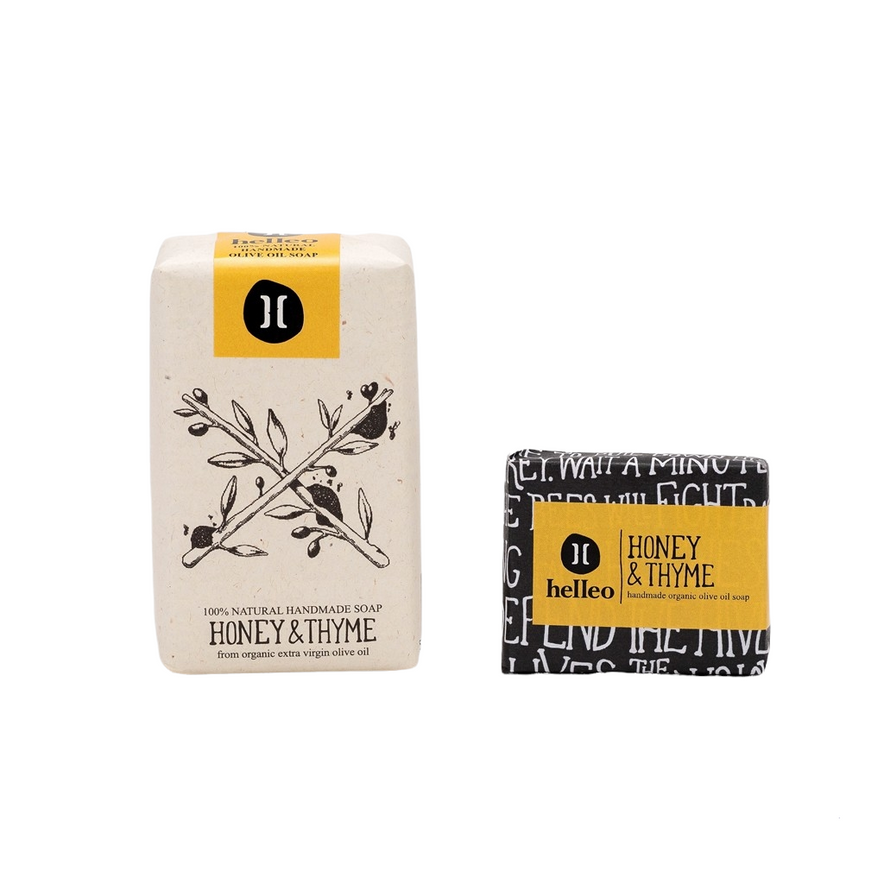 "Honey & Thyme" Handmade Soap
This soap, overwhelmed by the aura of the village, completes the eternal work of the bee and with its own honey takes care of the beekeeper who has been working for hours in the beehives. The honey, rich in moisturizing and conditioning properties, the antiseptic, astringent and antimicrobial properties of thyme, and the blend of essential oils soothes and moisturizes the skin.
Ingredients
Olive Oil, Coconut Oil, Thyme, Honey,
Pure Essential Oils from Pine, Lavender & Rosemary
Use
◉ For facial use, apply twice daily by wetting your hands and your soap and working into a nice lather. Use your hands to gently massage the lather over your face using circular motions, and then rinse with water.
◉ For the body, rub the soap directly onto a wet sponge to get the perfect lather. Use of a natural sponge is advised.

Notes
To ensure that your soap lasts as long as possible and produces a thick and creamy lather every time, make sure it remains dry between uses by storing it in a well-drained and ventilated soap dish away from water.

By HELLEO, a Cretan family business located in Heraklion, with a deep passion for the cultivation of olive trees and the pure products they give us. Full of vision and artistry, they bridge tradition with modern design. "With respect to our past, we look to our future."
The cold process of soap making is used so as to retain the precious ingredients for the skin, as well as the natural glycerin which is formed during saponification and is absent from manufactured soaps. HELLEO soap is 100% natural and handmade from their own organic extra virgin olive oil and pure ingredients.
To minimize their environmental impact, HELLEO integrates biodegradable, recyclable, and reusable packaging into their products, with all processes designed to produce zero waste.