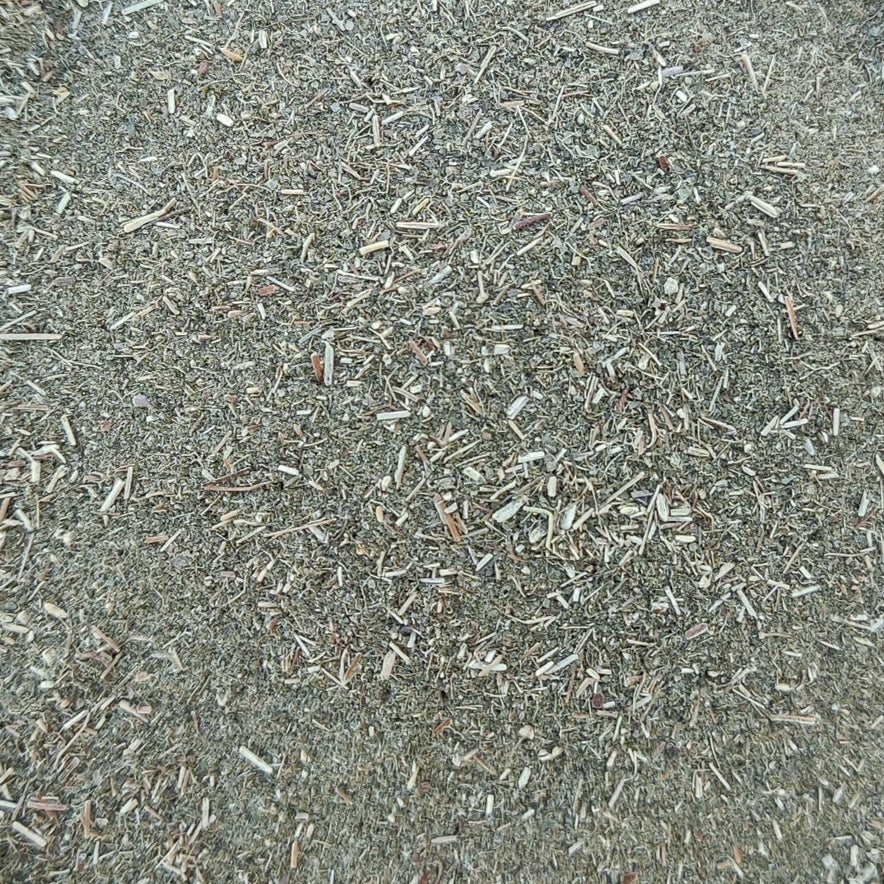 Horny Goat Weed Powder (Epimedium)
Epimedium is one of the most valued tonics of Chinese herbalism. In China it is especially used for supporting healthy sexual activity – thus its name – Horny Goat Weed. It is also known as barrenwort, bishop's hat, fairy wings, or yin yang huo.
In modern medicine it is known for restoring circulation, supporting hormonal balance, and helping to fight various effects of aging by fighting oxidative stress (free radical damage) as well as a "natural aphrodisiac". 
The story behind the name is that it originated when farmers noticed that goats and sheep who ate epimedium herbs became more excited around animals of the opposite sex.
Considered a Natural Aphrodisiac
Horny goat weed may be able to help normalize cortisol levels and reduce some of the negative effects of stress on the body, which can include lowered sex drive, mental fatigue, and various problems with hormonal balance or sexual performance. By helping to normalize testosterone and estrogen levels, it may be useful for combating symptoms like low energy, involuntary ejaculation, and vaginal dryness.
May Help Treat Erectile Dysfunction
As mentioned above, one suspected mechanism of action of horny goat weed when it comes to treating Erectile Dysfunction, is helping to increase circulation in blood vessels connecting the penis — thus, operating as an erectogenic and improving erectile function.
May Increase Testosterone Levels
Icariin has been shown to have natural testosterone-mimicking properties, one reason it helps to improve sexual desire, strength, and even athletic performance. 
Can Help Balance Hormones During or After Menopause
Epimedium is considered to help promote "yin" energy, restoring energy levels and balance. With its "spicy, sweet and warm" properties, it's helpful for people who are feeling fatigued or "yin deficient," especially those going through hormonal changes such as menopause. 
Can Help Increase Muscle Strength
In some studies, icariin has had positive effects on lean muscle production. It's suspected that icariin helps the body secrete proteins that allow cells to grow and contribute to tissue repair.
It's not uncommon for those looking to "bulk up" and put on muscle mass, such as athletes and bodybuilders, to use icariin as an active ingredient in supplements. Its use has also been linked with improved recovery following exercise and better athletic performance. Although it isn't considered to be a stimulant and doesn't work the same way that something like caffeine does, some find that taking supplements containing icariin can help improve their strength, stamina, and endurance.
May Help Improve Bone Health
A study showed evidence that horny goat weed has positive effects on restoring bone density and therefore may help prevent symptoms related to osteoporosis, such as fractures or decreased bone density of the spine. Other studies have found that taking horny goat weed extract for 24 months helped to stop bone loss of the spine and hips in post-menopausal women.
Use
Keep in mind that it can take several weeks of taking horny goat weed supplements before you start noticing any effects. Recommended dosages of horny goat weed depend on why you're using it. People with a lower body weight need a lower dose.
Depending on gender and body size, currently, the recommended dosage for horny goat weed is as follows:
0,2gr - 1gr per day for most post-menopausal women or people with a small body size

Around 1gr - 1,5gr per day for most adult men
Mix into drinks, hot beverages such as lattes and hot chocolate, smoothies, hot or cold cereals, granola, overnight oats, bars, chia seed pudding, or even baked products (although cooking it at high temperatures may destroy some of the phytonutrients).
Notes
◉ Should be stored in airtight glass containers -in a cool, dark, and dry place- to preserve the flavor, texture, and properties.
◉ Before adding a new herbal remedy or supplement to your daily routine, you should consult with a medical doctor or holistic health practitioner.