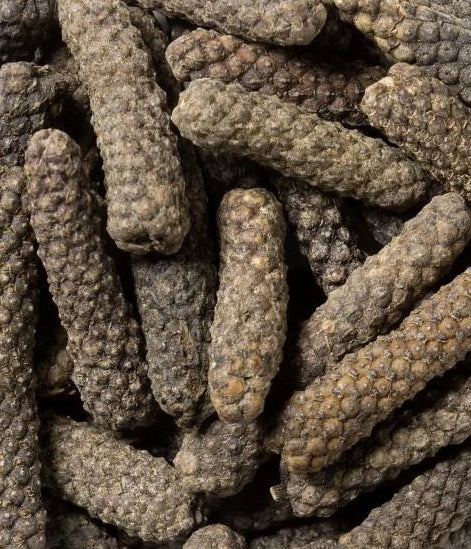 Long Pepper / Pippali (Piper Longum)
Long pepper, also known as Java pepper, Bengal pepper, pippali, and Indonesian long pepper is a native of the Asian sub-continent. This is a very valued condiment and also a medicinal herb, right from the time of Hippocrates.
It is well known and highly valued medicinal herb used for thousands of years in alternative health systems, in India, China, Africa, and Europe. It is especially known for its emmenagogue, diaphoretic, cholagogue, carminative, astringent, and antibacterial properties.
Long pepper is primarily used for treating respiratory conditions, such as breathlessness, asthma, bronchitis, cough, cold, and fever. It is also effective in treating rheumatism, regulating cholesterol, and preventing obesity. Long pepper improves digestion, increases metabolism, and is good for constipation. It is also recommended for nausea and flatulence.
It has also been applied in the treatment of scarlatina, cholera, diarrhea, vertigo, arthritis, and paralytic disorders. When the stomach does not respond to quinine, pepper is added to enhance its effectiveness.
Finally, it can help cure tuberculosis, piles as well as spleen and liver enlargement. Long pepper, also cures anemia and can help increase lactation. It helps relax and dilate coronary arteries and improves circulation.
Notes
◉ Should be stored in airtight glass containers -in a cool, dark, and dry area- to preserve their flavor, texture, and properties.