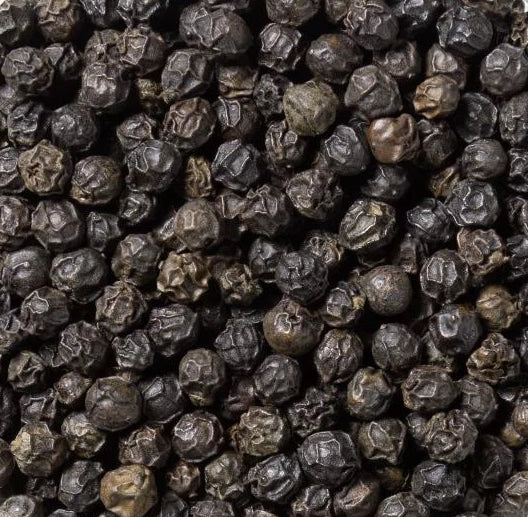 Malabar Black Peppercorns
Tiger pepper, also known as Black Malabar pepper, is grown in a carefully protected natural reserve on the Malabar Coast highlands of South West India's Kerala state.

Piper nigrum is a flowering plant in the Piperaceae family that produces black peppercorns. Malabar black peppercorns are harvested when they are still tiny and green. They're typically cooked beforehand to speed up the enzymatic activity that causes them to change color. After that, the peppercorns are dried in the sun, turning black and wrinkled in the process.
Our Malabar Black Pepper is the epitome of pepper directly from the source, with prickly pine and crackling citrus top notes. Piperine's sharp burst of heat sweeps over the tongue with its resinous, pine-laden aromas, giving these peppercorns a mild flowery flavor at first. As the heat diminishes, a mellow, rounded fruit flavor emerges to remind us that peppercorns are, after all, berries.
Use
Black Malabar pepper is used in all cuisines across the world, and when cooked whole in sauces, it provides a round flavor with a little sharpness. Prior to roasting or grilling, you can marinade the meat with this. It's delicious with caramelized fruits and jams. It has an earthy flavor and is often used in conjunction with salt for seasoning.
Grind in a pepper mill or use whole and add to soups, stews, roasted meats, fish, sauces, stocks, and marinades.
Notes
◉ Spices should be stored in airtight glass containers -in a cool, dark, and dry area- to preserve their flavor and properties.