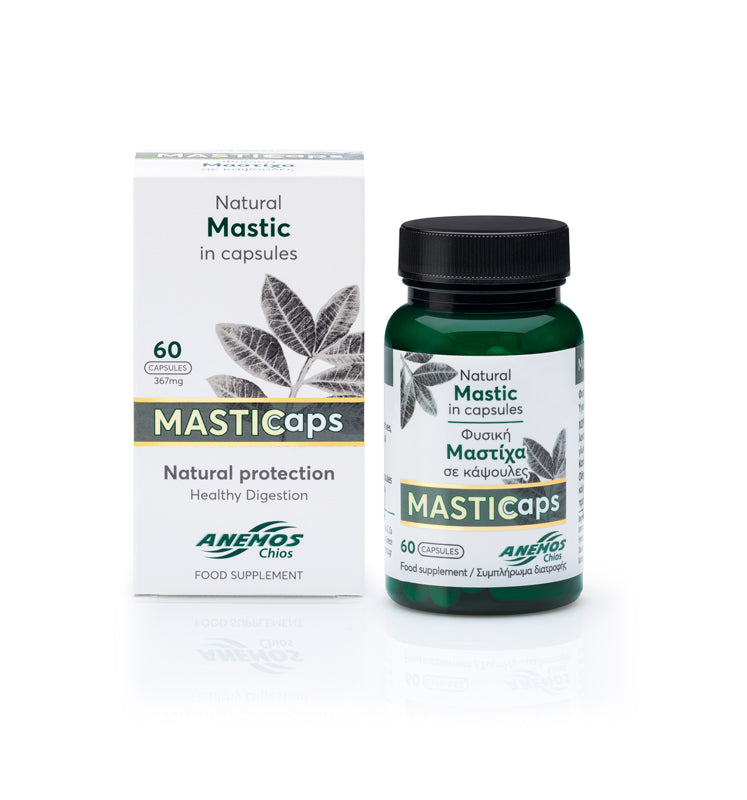 "MASTICaps" Natural Mastic Capsules
Mastic is a natural product that comes from mastic trees. It is a natural semi-transparent resin with white color. It contains at least 70 different substances, mainly terpenoids, with beneficial properties for diseases of the gastrointestinal system. Traditionally, it is used as natural and hygienic chewing gum, excellent for teeth cleaning.

Common names for Mastic: Masticha, or Mastiha, or Mastika or Mastix or Gum Mastic or Mastiche or Gomme Mastic or Mustaka or Mistika or Mastagi Roomi
Benefits

Protection of the health of the gastrointestinal system, due to its action against Helicobacter pylori.
Protection of the health of the oral cavity. It also fights bad breath. There is a strong correlation between mastic and results against various unpleasant conditions of the oral cavity such as plaque, caries, periodontitis, and gingivitis.
Protection of the skin with firming and anti-wrinkle properties.
Antioxidant, antimicrobial, and anti-inflammatory properties.
Could possibly help with the management of hypertension, cholesterol, and diabetes.
Use
Take 3 capsules per day with water or juice, preferably 20-30 minutes before any meal.

Notes
Capsules should be stored in airtight glass containers -in a cool, dark, and dry area- to preserve their flavor and properties.
No Gluten, preservatives, lactose, GMO, sugar, or artificial sweeteners.
Suitable for vegetarians and vegans.
By ANEMOS, a Greek business located in Chios, producing all-natural, handcrafted, mastic-related products. With a deep tradition and long experience in Mastic growing, they encapsulate the essence of pure Mastic in a variety of exceptionally high-quality products while being efficient enough to offer the highest Value-For-Money rate in their field. That and "Being a pioneer and not an imitator" are the 2 pillars they're based on.
In order to minimize their environmental impact, ANEMOS optimized waste efficiency during production.