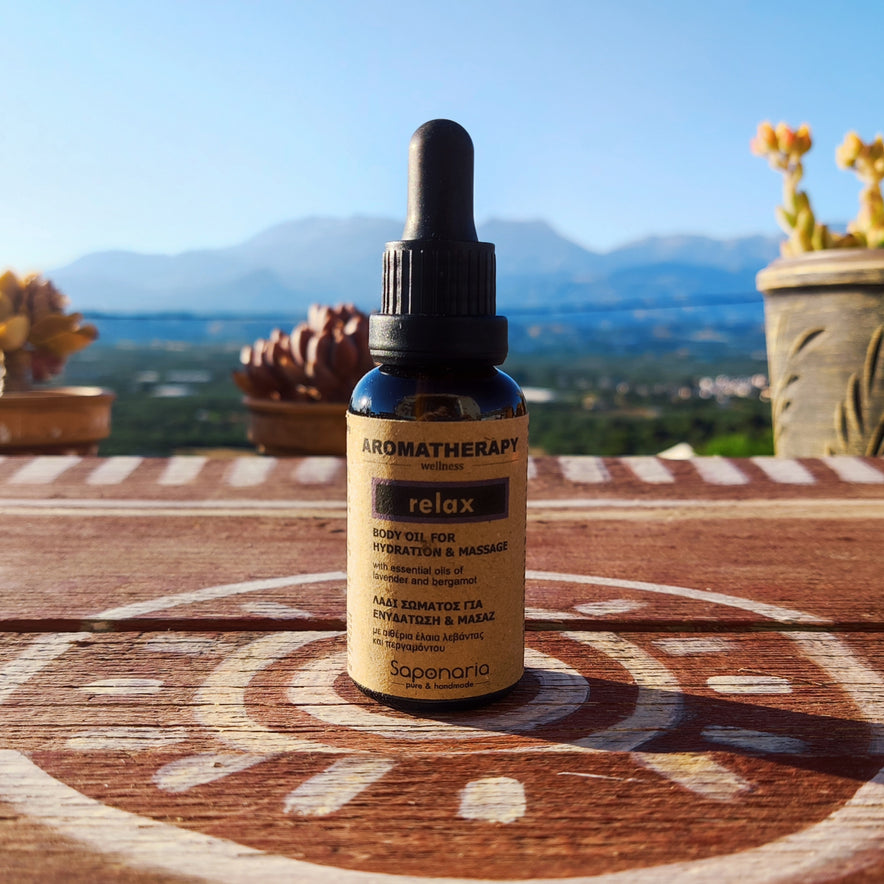 Natural Body Oil "Relax"
"Relax" is an all-natural and fast-absorbing body oil for all skin types that deeply moisturizes with ultra-nourishing shea butter and antioxidant-rich vitamin E. Massage into the skin and the calming scent of lavender and bergamot essential oils can help you to relax, de-stress, and calm down. 

Ingredients
Almond Oil, Coconut Oil, Jojoba Oil, Shea Butter, Sunflower Oil, Bergamot Oil, Ylang Ylang Oil, Vitamin E, and Lavender Oil. 
How to use
For hydration, apply after bath or shower on damp skin a tiny quantity to your body, making massage with circular movements, to seal the moisture to the skin, and then wipe gently with a towel. 
*25-30 drops are enough for all of your body.
For your bath: add to the water of your bath about 10-20ml of the body oil, relax and stay there for 20 to 30 minutes. No rinse is needed.
For massage, apply freely to dry skin and give yourself or your loved ones a wonderful massage that stimulates the senses. 
By SAPONARIA, a Cretan business located in Heraklion, producing all-natural and handcrafted skin-care products, cold processed so that the ingredients can retain their unique properties. They are colored with herbs and spices, flavored only with pure essential oils, containing no preservatives. In addition to the valuable extra virgin olive oil from Crete, excellent ingredients such as cocoa butter, almond oil, and shea butter are used in the production process.

In order to minimize their environmental impact, SAPONARIA integrates recycled paper and cotton packaging into their products, which are biodegradable, recyclable, and reusable (the pouch).