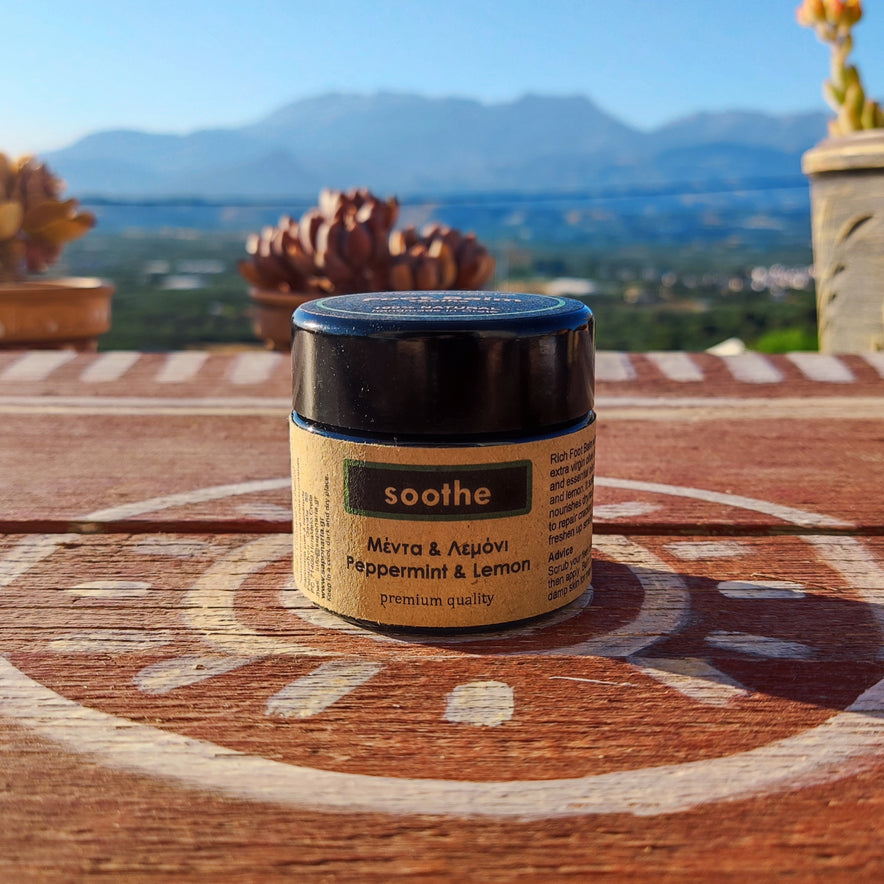 Natural Foot Balm "Soothe" with Peppermint & Lemon
Velvety-rich hand and body balm with calendula, cocoa butter, sesame oil, pure beeswax, and essential oils of sandalwood and mandarin. 
It is fast-absorbing, softens, and deeply nourishes dry skin. 
An extra moisturizing foot balm made with extra virgin olive oil and avocado oils as well as cocoa butter with soothing peppermint essential oil and refreshing lemon essential oil.

Works wonders on cracked heels.

Directions: This salve is made with natural oils and butter so it is quite "greasy" and a little does go a long way. It is best used before bed but it can be applied anytime. For an extra moisturizing treatment, apply lots of the salve to your feet and then put on cotton socks before retiring to bed to let the oils and butter work their magic.
Using just a 20 p size amount of Foot Balm, massage into your feet and put your feet up for 15 minutes allowing the luxurious oils and butter to absorb. Alternatively apply just before bedtime, popping on a pair of cotton socks overnight.
Lemon and peppermint essential oils give a light refreshing scent whilst the natural butter and oils will give skin an intensive burst of moisture and the wax will provide a layer of protection.
By SAPONARIA, a Cretan business located in Heraklion, producing all-natural and handcrafted skin-care products, cold processed so that the ingredients can retain their unique properties. They are colored with herbs and spices, flavored only with pure essential oils, containing no preservatives. In addition to the valuable extra virgin olive oil from Crete, excellent ingredients such as cocoa butter, almond oil, and shea butter are used in the production process.

In order to minimize their environmental impact, SAPONARIA integrates recycled paper and cotton packaging into their products, which are biodegradable, recyclable, and reusable (the pouch).