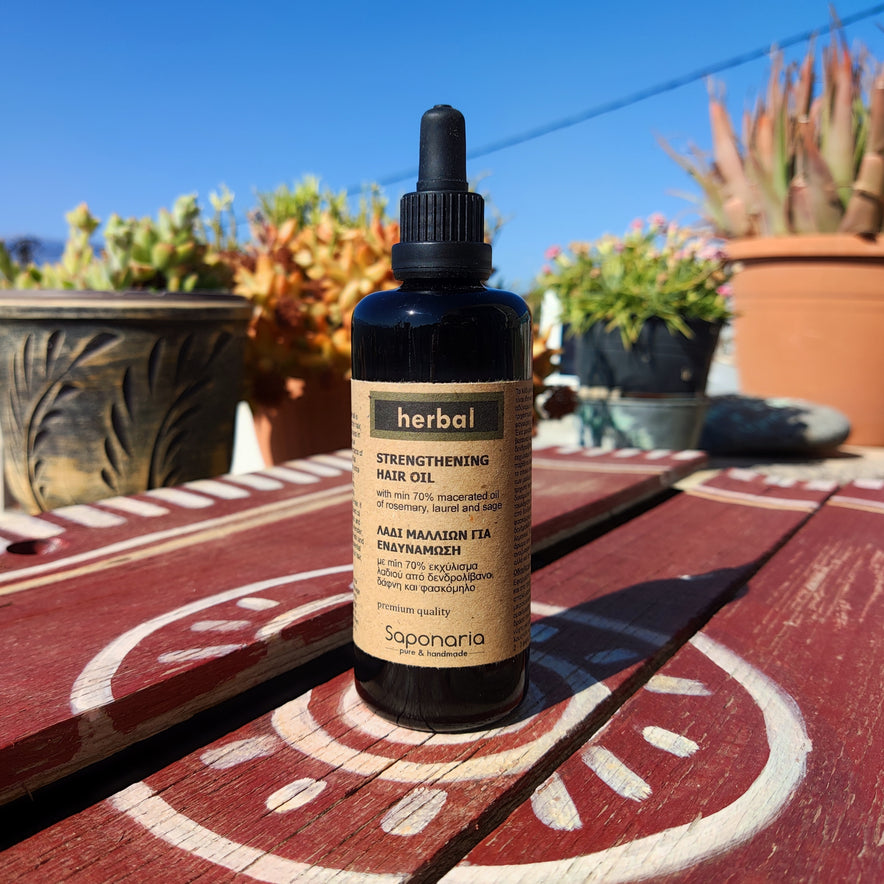 Natural Hair Mask "Herbal"
Mask for the treatment of weak hair with hair loss. It is enriched with herbal extracts and essential oils that help to stimulate and strengthen the scalp. Rosemary strengthens the hair. Laurel tones the hair and prevents hair loss. Sage is emollient and has a long tradition in many cultures to cover grey hair. Cedar has antiseptic properties and helps with hair loss and dandruff.

Use
Apply the mask to wet or dry hair along the entire length from the root to the ends. Gently massage for a few minutes on the scalp and comb to spread evenly.* Leave on for at least 30 minutes and then rinse with plenty of water and wash thoroughly. Use the mask once or twice a week or more often depending on your needs.
BONUS Tip: For better absorption, wet a towel with enough hot water, squeeze it well and wrap your hair.

Ingredients
Almond oil, Olive oil, Castor oil, Jojoba oil, Rosemary oil, Laurel oil, Sage oil, Coconut oil, Cedarwood oil, Safflower oil, vitamin E, Sunflower oil, Lavender oil, Patchouli oil, Geraniol, Limonene, Linalool
By SAPONARIA, a Cretan business located in Heraklion, producing all-natural and handcrafted skin-care products, cold processed so that the ingredients can retain their unique properties. They are colored with herbs and spices, flavored only with pure essential oils, containing no preservatives. In addition to the valuable extra virgin olive oil from Crete, excellent ingredients such as cocoa butter, almond oil, and shea butter are used in the production process.

In order to minimize their environmental impact, SAPONARIA integrates recycled paper and cotton packaging into their products, which are biodegradable, recyclable, and reusable (the pouch).