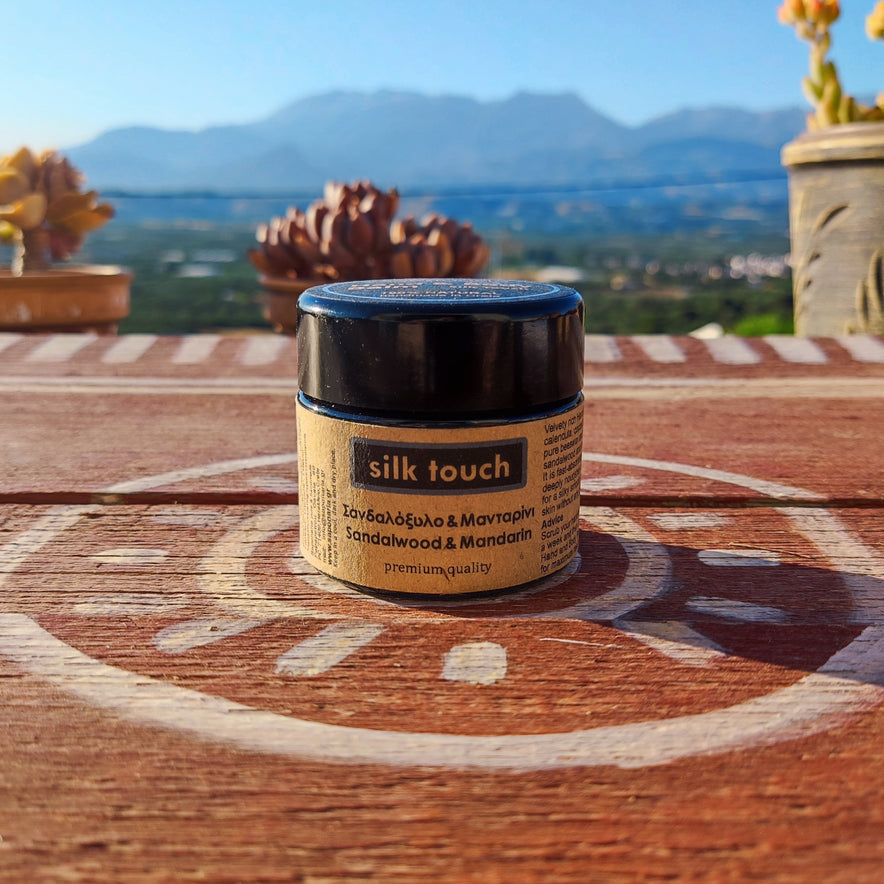 Natural Hand & Body Balm "Silk Touch" with Sandalwood & Mandarin
Velvety-rich hand and body balm with calendula, cocoa butter, sesame oil, pure beeswax, and essential oils of sandalwood and mandarin. 
It is fast-absorbing, softens, and deeply nourishes dry skin. 
It's a high five for hydrated hands. An indulgent blend of shea butter and virgin hemp oil melts into skin to leave hands, nails, and cuticles feeling nourished with moisture and relieved from dryness.

Keep a tin of this super moisturizing hand cream by the bed and give your hard-working hands a treat before you grab some zzzs.

softens and protects the skin
quickly absorbed
made with a relaxing and soothing blend of lavender, cedarwood, and chamomile essential oils
a little bit goes a long way
Directions: Massage into hands, nails, and cuticles as required.
"Silk touch" is an all-natural and fast-absorbing hand and body balm for all skin types that deeply moisturizes with ultra-nourishing shea butter and antioxidant-rich vitamin E. Massage into the skin and the calming scent of lavender and bergamot essential oils can help you to relax, de-stress, and calm down. 

Ingredients
Almond Oil, Coconut Oil, Jojoba Oil, Beeswax, Cocoa Butter, Cretan Extra Virgin Olive Oil, Sesame Oil, Calendula Extract, Vitamin E, Sandalwood Oil, Ylang Ylang Oil,  Rose Geranium Oil, and Mandarin Oil. 
By SAPONARIA, a Cretan business located in Heraklion, producing all-natural and handcrafted skin-care products, cold processed so that the ingredients can retain their unique properties. They are colored with herbs and spices, flavored only with pure essential oils, containing no preservatives. In addition to the valuable extra virgin olive oil from Crete, excellent ingredients such as cocoa butter, almond oil, and shea butter are used in the production process.

In order to minimize their environmental impact, SAPONARIA integrates recycled paper and cotton packaging into their products, which are biodegradable, recyclable, and reusable (the pouch).
A lightweight, travel-friendly nourishing balm that cuddles your skin in hydration with a blend of Squalane, Sacha Inchi Oil & Coffee Seed Oil. This formula is a perfect companion to your moisturizer, creating an added protective layer to help prevent water loss, and delivering instant and lasting skin therapy. The formula contains zero added fragrance, but the coffee seed oil gives this product a natural green/ verdant scent. Versatile formula perfect for additional hydration or targeted re-hydration on the go - wherever and whenever you need a dose of replenishing moisture.