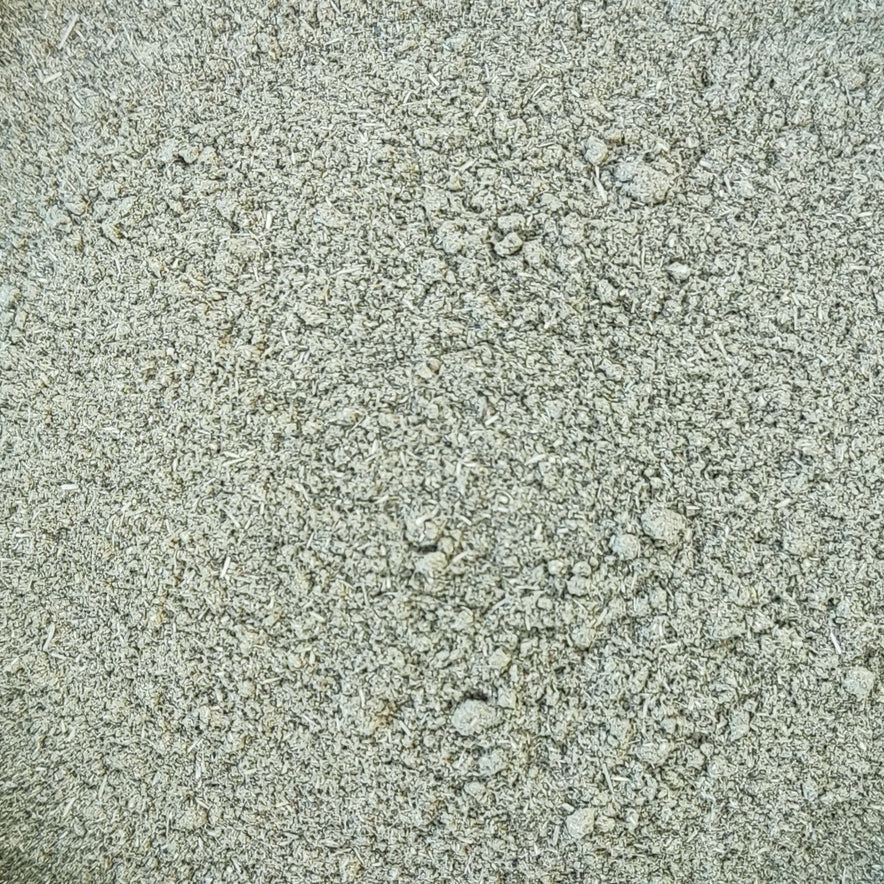 Neem Powder | Organic (Azadirachta Indica)
Neem is a natural herb that comes from the neem tree, other names of which include Azadirachta indica and Indian lilac.
The neem tree is highly prized in traditional medicines and all its products are widely used in the treatment of various external and internal health conditions. The medicinal properties of neem are distinct, and all parts of the tree are its flowers, bark, stem, twigs, seed, and leaves are incorporated into the formulations of medicines, soaps, cosmetics, toothpaste, and mosquito repellants.
Neem leaf powder purifies the blood, battles free radical damage, flushes out toxins, treats insect bites, and cures ulcers. Furthermore, the powerful anti-fungal, anti-bacterial properties of neem leaf powder facilitates in treatment of worm infestation, burns, and skin disorders and triggers the immune system.
The potential anti-bacterial effects of neem powder are valuable for treating skin conditions like eczema, and psoriasis and warding off acne and blackheads. Apply neem powder paste on the acne and allow it to stay overnight. This aids to lessen the scars, blackheads, and pigmentation. The natural moisturizing properties of neem powder helps in treating skin dryness by nourishing the skin cells and restoring the skin pH balance. Neem leaves powder works as an amazing toner for the skin and revamps the skin's youthfulness. 
Neem leaf powder has been used since ancient times to treat dandruff. The potent antifungal properties of neem powder are beneficial in warding off dandruff. Apply the paste of neem leaf powder mixed with lemon juice on the scalp and rinse after 20 minutes. This helps in clearing dandruff, cleansing hair scalp, treating lice, conditioning the hair, and strengthening the hair follicles besides adding volume and shine to the hair. Moreover, regular use of neem hair packs will promote hair sustenance and maintain scalp health.
Neem leaf powder is incredibly beneficial for triggering the immune system. The strong anti-bacterial and anti-fungal properties of neem leaf powder flush the harmful toxins and other impurities from the blood aiding to build a stronger immune system and keep infections at bay.
Evidence strongly supports that neem leaf powder is highly valuable to control and stabilize blood sugar spikes. The goodness of flavonoids, triterpenoids, anti-inflammatory elements, and glycosides in neem leaf powder stabilizes the blood glucose levels and ensures that there is no surge in blood glucose values.
Neem leaf powder has been used extensively for centuries in treating and preventing various intestinal disorders. The anti-inflammatory properties of neem leaf powder assists in treating intestinal worm infestation curing ulcers, promoting the digestion process, and reducing gut inflammation. 
Evidence revealed that neem leaf extracts gel when applied to the teeth and gum aids in treating dental plaque. The potent antibacterial properties ward off any bacteria in the mouth that causes plaque and also lessen tooth decay, cures ulcer, and eases toothache.
Imbued with powerful detoxifying properties, neem is pivotal for purifying the blood. By removing toxins, it cleanses the blood and enhances circulation throughout the body.
Thanks to the abundance of anti-inflammatory and anti-arthritic properties, Neem confers relief from pain and inflammation due to different forms of arthritis. Provides relief from rheumatoid arthritis but also subdues the burning sensation occurring in different parts of the body.
Use
Neem Face Mask Recipe: Mix 1 tablespoon Neem Powder + water, rosewater, aloe vera gel, yogurt, or honey. Make it into a paste and apply it all over the face. Leave the mask on for 20 minutes, and then rinse off with cool water.

Haircare: You can mix 3 tablespoons of neem powder with water to make a thick paste and apply it to your scalp. Leave it on for half an hour and wash off well.
CAUTION
🡆 Neem leaf powder is generally safe with very minimal side effects, but when taken in large amounts may cause kidney and liver damage. It is not recommended for pregnant women and children.
Notes
◉ Should be stored in airtight glass containers -in a cool, dark, and dry area- to preserve its flavor and properties.
◉ Before adding a new herbal remedy or supplement to your daily routine, you should consult with a medical doctor or holistic health practitioner.