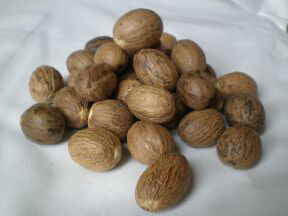 Nutmeg (Myristica Fragrans)
Nutmeg spice comes from the seeds of Myristica fragrans, a species of evergreen nutmeg native to some parts of Indonesia. It was widely traded, which brought it to new areas around the world.
Throughout history, nutmeg has been utilized for thousands of years. The earliest recorded use dates back 3,500 years ago in the Banda Islands. This incredible spice has long been appreciated for its taste and medicinal properties.

This warm, rich spice can add an intense flavor to dishes while increasing the health benefits of the finished product.
In fact, it has been associated with a long list of potential benefits and uses. These include enhanced heart health to better brain health, relieving pain and inflammation, supporting better sleep, promoting digestion, and more. In addition, it also helps provide a small amount of several key nutrients, including fiber, magnesium, calcium, and iron.
Use
Nutmeg compliments savory foods such as braised vegetables, steamed spinach, onion sauces, and pasta. Apple pie, muffins, spiced wine, eggnog, puddings, and any other sweet dish are all excellent candidates.
BONUS TIP: Because the flavor of this spice fades with extended heat, add it towards the end of the cooking process.
Notes
◉ Spices should be stored in airtight glass containers -in a cool, dark, and dry area- to preserve their flavor and properties.