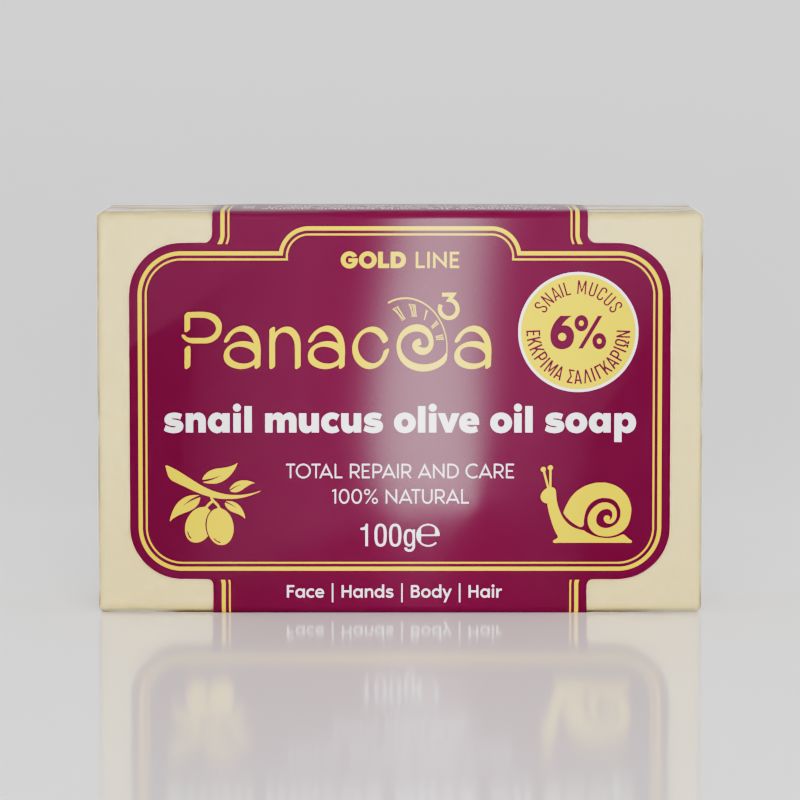 Olive Oil soap with 6% Snail Extract
The powerful snail secretion transforms an everyday Olive Oil soap into a product that offers incredible cosmetic advantages without destroying its unique properties.
Ingredients
Sodium olivate (saponified olive oil), Sodium palmate, Sodium palm kernelate, Aqua, Snail secretion filtrate, Sodium chloride (Sea salt)
Benefits
◉ It cleans and disinfects naturally without any side effects or allergic reactions, and without disturbing the natural balance of the hydrolipidic film or PH due to snail secretion in its components.
◉ When used on hair as a shampoo, it has the ability to regulate their oiliness and dryness, nourish each hair due to the rich keratin content of the snail secretion and the presence of metal oxides, and also nourish the scalp.
◉ Due to the high quality of its snail secretion, it achieves much higher concentrations of allantoin.
◉ Beneficial for acne, dry skin, and discoloration problems.
◉ Finally, it is used with amazing results as a shaving foam. It makes the razor glide and at the same time nourish the skin protecting it from irritations, infections, and cuts in the most natural way.
Use
◉ Use soap for daily cleansing of your face, hands, body, and hair, and as a shaving foam.
◉ Rinse gently and allow the lather of your soap to stay on your skin and hair for about 1 minute.
Notes
◉ For external use only.
◉ Carefully avoid eye contact. If not, rinse thoroughly with water.
◉ For all skin types, even for sensitive or fragile skin.
◉ It lasts for at least 24 hours even if you wash your body thoroughly.
◉ Should be stored in airtight containers -in a cool, dark, and dry area- to preserve its properties.

By Panacea3, a series of Escargot de Crete's skincare products built around the uniquely beneficial properties of snail secretion on human skin.
The unique occupation of Escargot de Crete, which is based in Crete, is the world of snails and their multiple beneficial properties and uses for human health. Its products do not simply contain snail secretion in high percentages but are designed from the outset with snail secretion as the only given active ingredient and the other ingredients having a complementary role to ensure that the snail secretion is in the right form for the specific uses required by the product in question.