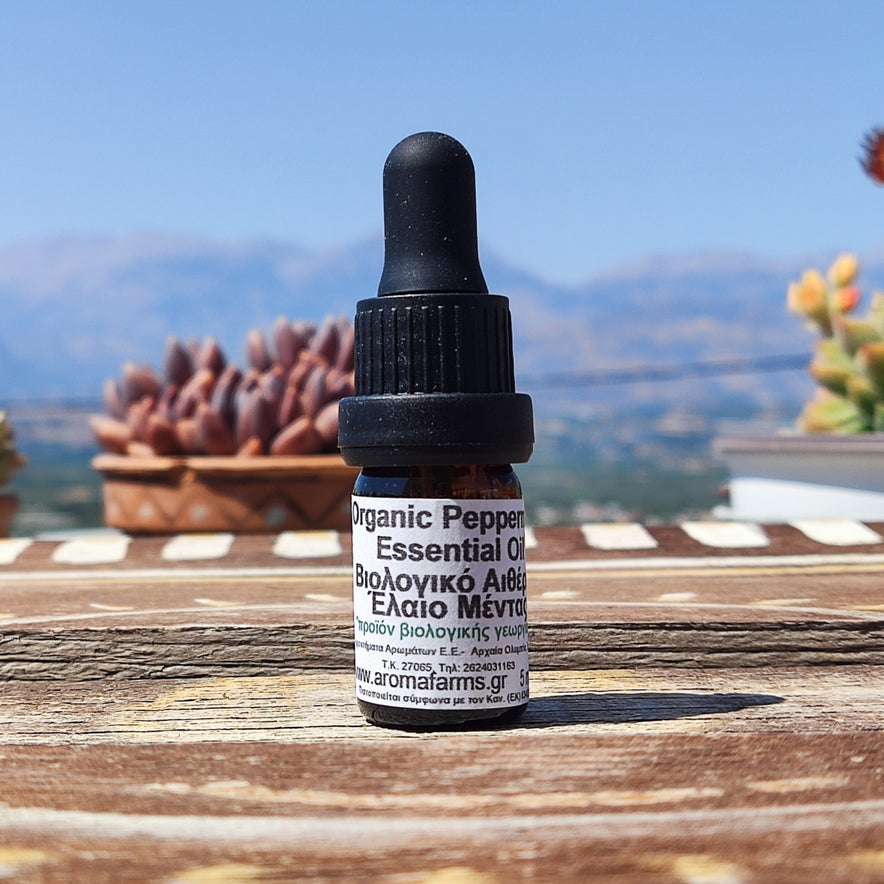 Peppermint Essential Oil | Organic
Peppermint essential oil has a fresh, cooling, and pleasing scent and it is known for promoting a healthy respiratory function and clear breathing and relieving migraines and headaches. It can also help promotes digestive health when taken internally and help alleviate symptoms of dyspepsia, bloating, and nausea. It contains mild antimicrobial and anti-fungal properties. Other uses include repelling bugs naturally and often being added to soaps and cosmetic products.
CAUTION
🡆 Do not use the product if it is not sealed upon receipt.
🡆 Never apply inside the eyes, nose, ears, genitals, and damaged or injured skin.
🡆 If you are pregnant, breastfeeding, or have a chronic condition, consult your doctor before use.
🡆 Should not be used on children under 5 years old.
🡆 Do not expose yourself to the sun when you have used essential oil of citrus fruits such as (Lemon, Orange, etc.) for 5 hours because it creates skin irritations and photosensitivity.

Notes
◉ Do not use essential oils undiluted on bare skin. It is suggested to do a patch test first. Preferably, use a carrier oil such as almond oil, jojoba, etc., and add in a ratio of 10ml (carrier oil), up to 5 drops of essential oil.
◉ Should be stored in airtight glass containers -in a cool, dark, and dry area- to preserve its properties.
◉ Use the recommended dosage for the corresponding essential oil. 

Using Essential Oils
Here are some ways how to properly use essential oils, as well as a recommended dosage in each case so that you don't overuse them while reaping their full benefits. We strongly recommend starting with the lowest amount and progressively increasing it with each use, if the previous result did not suffice.

🡆 With a diffuser
    Use 3-7 drops.
🡆 On your palms
    Rub 1 drop in your palms, then take a deep breath.
🡆 For a massage
    Mix 2-7 drops of essential oil with 1 tbsp of any carrier oil.
🡆 For facial streaming
    Blend 1-5 drops of essential oil in a bowl with hot water, enough to produce vapor.
🡆 In a bathtub
    Combine 10-20 drops with milk, honey, bath salts, or any carrier essential oil, then add the mixture to the water.
🡆 For a footbath
    Use 5-10 drops in a basin of water.
🡆 In a towel or compress
    Mix 5-10 drops in a bowl with lukewarm or cold water, soak your compress in it, then squeeze out the excess water until it is just dumb.
🡆 As a face cream
    Use 2-8 drops rub between palms and apply by pressing into the skin.
🡆 With your shampoo, conditioner, or shower gel
    Combine 8-20 drops with the appropriate product, depending on that oil's potency.
🡆 With a spray bottle
    Mix 20-50 drops in 500ml water for spraying on kitchen and bathroom surfaces, furniture, curtains, mattresses, bedding, clothes, rooms, etc.
🡆 For closets and drawers
    Use 1 drop on a piece of cotton.
🡆 On the pillow
    Use 1 drop on the right and left sides of the pillow.
🡆 For enhancing the flavor of your dishes
    Start with only 1 drop in your recipes, such as salads, tea, milk, etc. Depending on its potency you may add more drops for extra flavor. Make sure that essential oil is consumable first!
🡆 For undiluted application
    Use 1 drop direct topical application, but since most essential oils are quite potent, make sure they can be used that way.