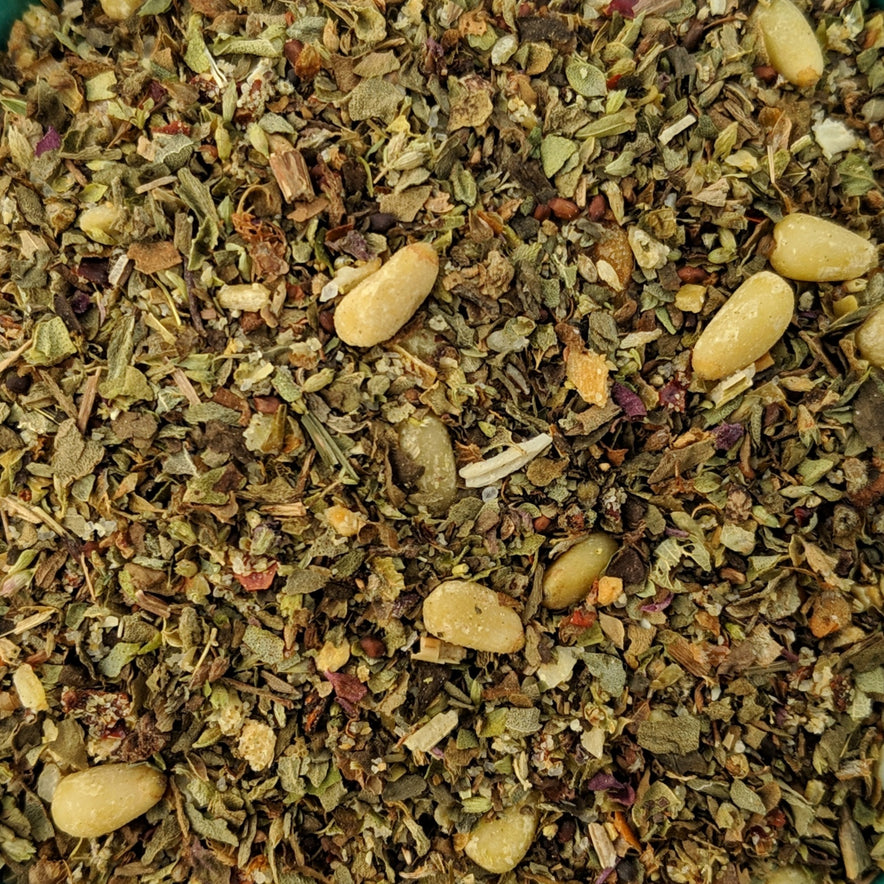 "Pesto Genovese" Spice Mix
A classic Italian basil-based sauce, both peppery and herbaceous, that gives your dishes a unique and intense flavor with nutty, earthy, and rich tones redolent of garlic. The flavors veritably explode in your mouth.
Ingredients
Basil, Almonds, Pine Nuts, Onion, Oregano, Garlic, Salt, Pepper, Paprika, Rosemary
Use
Ideal for its namesake pasta dish.
Can be used as the base sauce on Italian-style pizza, with roasted veggies, scrambled eggs, omelets, mashed potatoes, baked potatoes, as a spread on bruschetta, as a dry rub on chicken, pork, and fish, or in vegetable soups and boiled meat. Pairs extremely well with cherry tomatoes and mozzarella.
Recipe: "Pesto Genovese", water, oil, lemon juice, and parmesan cheese
Put enough of the mixture in a bowl with some fresh parmesan cheese and combine with some warm water until it turns into a thick creamy texture. Add the oil, stir once more and enjoy. Use it in pasta, meats, and sauces.
Notes
◉ Should be stored in airtight glass containers -in a cool, dark, and dry place- to preserve the flavor, texture, and properties.