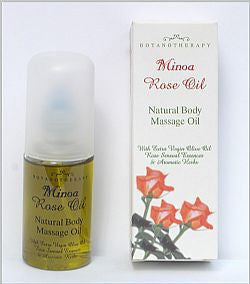 Rose Body Massage Oil
A Natural, active & effective massage oil that combines the revitalizing high qualities of the best extra virgin olive oil (containing Vitamin E that prevents oxidation) with the invigorating healing qualities of rare red roses & aromatic herbs, allowing the skin to absorb the high qualities of the herbs and cures the body, mind and spirit.
The extra virgin olive oil contains Linoleic Acid - similar to that contained in maternal milk - and Vitamin E - considered to be re-vitalizing and preventing the oxidation of Lipids in the cellular membranes - thus delaying the aging of tissues and their claudication.
A 100% natural product without any side effects, consists of 100% Natural High Quality Extra Virgin Olive Oil with Rose Essences & Aromatic Herb Extracts.
A gentle massage with MINOA Rose Oil loosens stressed bodies, calms tensed nerves and nourishes the skin while the sensual aroma advocates in developing a mysterious and sensual atmosphere for relaxation.
Frequent use allows beneficial energies to work into inner channels more directly, thus bringing out deep emotions & invoking spiritual union and tone confidence.
MINOA Rose Oil is easily absorbed and can be used all over your body and hands to care and moisturize sensitive skin. It does not irritate the skin.
Recommended for sensitive skin.
Usage Instructions:
Apply the MINOA Rose Oil over your hands and body. You need a small portion for a generous luxurious massage. Massage over hands and body to protect, nourish, moisturize and leave your skin feeling soft, supple and smooth. Use this formula of unique and priceless ingredients prudently, drop by drop and allow your body 3 minutes for absolute absorption.
Caution:
Avoid contact with eyes. If there is contact, rinse off with plenty of water. Shake the bottle before application. Store in a cool & shadow place. FOR EXTERNAL USE ONLY.
Ingredients:
All ingredients are 100% natural and have been known & used since ancient times, having honorable status throughout the ages. High Quality Extra Virgin Olive Oil, Rose Essences & Aromatic Herb Extracts.