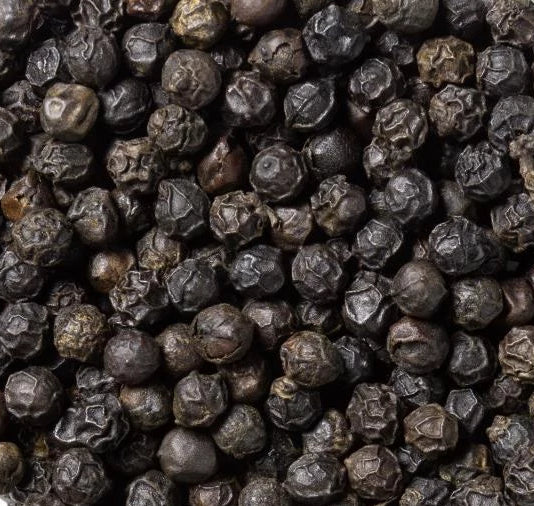 Tellicherry Peppercorns
Tellicherry is particularly carefully handpicked as the selection of the thickest and most beautiful pepper berries after drying. This noble Pepper rarity comes from the Periyar Wildlife Sanctuary in the Indian state of Kerala on the Malabar Coast and is named after the port city of Tellicherry (Thalassery).
Of this quality, only small amounts of the best crops are processed into Tellicherry pepper annually.

The taste of the almost fully ripe pepper berries harvested is very aromatic and slightly sharper than ordinary black pepper. Tellicherry pepper is more intense, warmer, and nutty in flavor than the ordinary black pepper. Its smell is similar to tea and sandalwood.
The color is more brown than black, which is due to the longer maturity of the grapes at harvest. Therefore, he is often referred to as late-harvest pepper. 
Use
It is suitable for all types of meat, and can also be used as a universal pepper.
Notes
◉ Should be stored in airtight glass containers -in a cool, dark, and dry area- to preserve their flavor, texture, and properties.
◉ Ideally used with a peppermill.