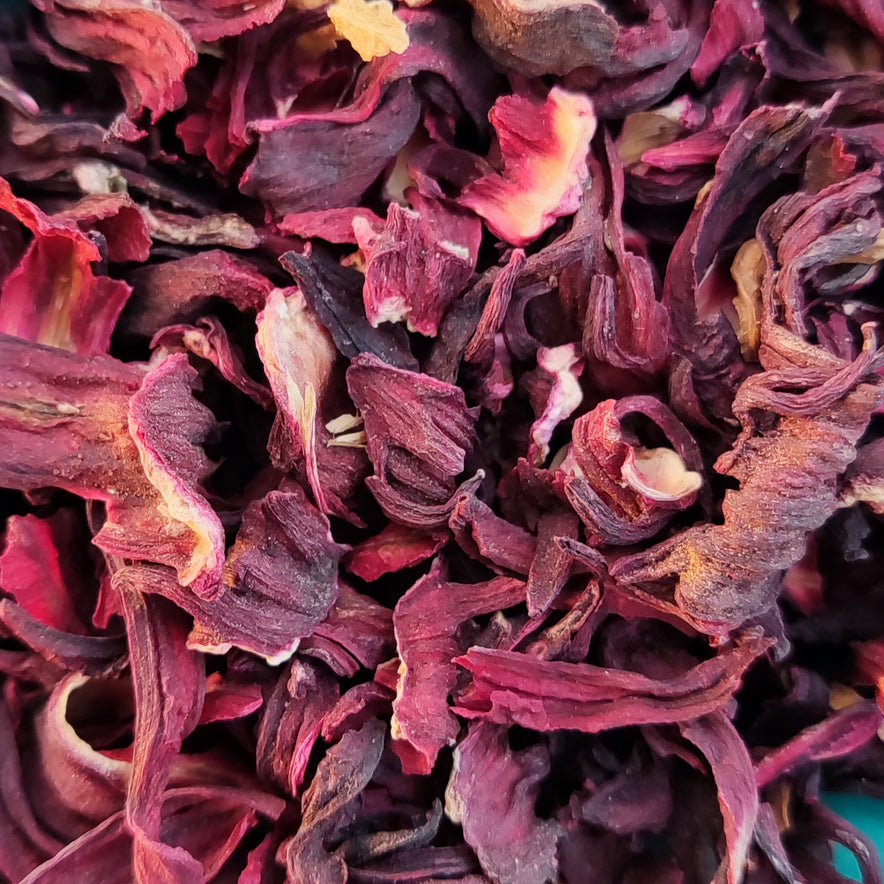 Hibiscus Flowers
Also known as roselle, red sorrel, Jamaica sorrel, and rosemallow, the Hibiscus flower is native to Angola. Today it is cultivated in most subtropical and tropical regions which include India, China, Mexico, Egypt, and Sudan. 
It is a popular ingredient in many traditional healing systems including Ayurvedic and Chinese traditional medicinal systems.  Acclaimed for its refrigerant, emmenagogue, diuretic, cholagogue, astringent, appetite depressant, anti-cancer, and antibacterial properties these flowers are used as a nutrition-rich tonic, longevity tonic, for treatment of hypertension, and for promoting and aiding weight loss. It is also used as a mild laxative.
The flowers are popular as tea because of their great taste and their property to aid weight loss as it consists of the natural form of Hydroxycut (hydroxycitric acid) – a chemical most effective in weight loss diets. It also contains ascorbic acid and chromium, which are highly effective in fighting obesity tendencies.
Its ability to regulate blood pressure has been validated by numerous studies. Administered in combination with St John's Wort and lemon balm it helps treat insomnia.
The tea is made out of the calyx of the flower; the petals and the rest of the flower are discarded.
Recommended Dosage
◉ 1-3 teaspoons of loose tea (or 3g up to 3 times) daily. If more than one herbal mixture is consumed at the same period of time, reduce the amount of tea accordingly.
◉ When herbs are used for an extended period of time, it is suggested to consume a herbal remedy with a ratio of 3 to 1. For example:
- If you choose to take it for 3 weeks, have a one-week pause.
- If it is taken for a 30-day period, have a 10-day pause.
That does not apply to herbs and fruits that have a laxative effect.

Notes
◉ Should be stored in airtight glass containers -in a cool, dark, and dry place- to preserve the flavor, texture, and properties.
◉ Before adding a new herbal remedy or supplement to your daily routine, you should consult with a medical doctor or holistic health practitioner. 
Herbal Tea Brewing Instructions
Heat the water to just the point when it starts to boil.
Add 1 teaspoon of loose tea, to a

 

tea infuser

 

or

 

tea bag, for every 180ml - 240ml of water.
Pour the heated water (right off the boil) over the tea, cover your cup, and steep for 7-10 minutes or longer.
Follow these additional steps to make the perfect cup of tea!